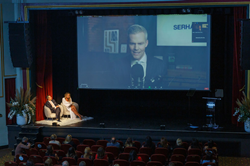 Valor Capital, a real estate firm with more than 35 years of international building experience, has developed more than $1 billion in properties around the world.
CLEARWATER, Fla. (PRWEB) March 15, 2021
Jackie Diaz of Premier Sotheby's International Realty, Cheryl Franzese of Coastal Properties Group International, Martha Thorne of Coldwell Banker, and celebrity real estate agent Ryan Serhant, star of Bravo's network's Million Dollar Listing and Sell It Like Serhant, were among the 150 high-profile brokers and realtors who attended the one-of-a-kind introduction of Valor Capital and their upcoming development, Serena by the Sea, a $70M, 80-unit state-of-the-art luxury condominium development located between downtown Clearwater and Dunedin. The event was held at the Capitol Theatre, a historic theater in Clearwater, FL, managed by Ruth Eckerd Hall.
Valor Capital, a real estate firm with more than 35 years of international building experience, has developed more than $1 billion in properties around the world. Their latest $70 million project in the U.S. will also be a boon to the local economy, adding between 950 and 1,680 new jobs and $200 million in gains to Tampa Bay.
Ryan Serhant, who could not attend in person due to a last-minute scheduling conflict with Bravo, instead made his appearance via a live Zoom call on Capitol Theatre's big screen for a Q&A with Tampa Bay's top realtors and brokers. Topics discussed included the Tampa Bay real estate boom, why Ryan is so interested in this area, and advising on how to sell in a highly competitive market. After the Q&A, guests were treated to a group photo with the TV star.
Jessica Papa, a prominent broker in the Tampa Bay Area, who was recognized at the event for selling the development's 40th unit which put Valor over their escrow target said, "I'm both honored to be part of this amazing new project and quite proud of the contribution Valor Capital is making to the Clearwater area. Serena by the Sea encompasses the perfect blend of architecture and COVID-safe technology to achieve the best expression of luxury living."
In line with new COVID-19 protocols, safety was treated with paramount importance. Event Planner Jessica Ralph of Parties A' La Carte managed the event admirably; all 150 attendees (the maximum allowed per COVID conventions) signed waivers and were given temperature checks and hand sanitizers at the door. Wrist bands were also provided to help maintain crowd control.
Festivities included a meet-and-greet, ribbon-cutting ceremony debuting the new sales gallery, and a champagne reception in a full-size model kitchen with Florida's #1 rated celebrity chef Bob Aungst.
Brokers and realtors toured the 6,000-sq. ft. sales gallery which was also built as a co-working space specifically for them. Made to appeal to all five senses, the design center gives potential buyers the ability to view all the finishes and materials, as well as customize their home and lifestyle needs for an overall true feel for what life is like at Serena by the Sea. There is also an outdoor meeting space with clear views of the Intracoastal Waterway, the Clearwater bridge and downtown Clearwater. Advanced technology includes a floor to ceiling visualizer LED screen for special realtor events, with a high-end security system.
Valor's Corporate headquarters and Sales Gallery were designed by Conway + Partners, based in New York City. It was curated by DKOR International, based in Miami, FL, along with Peter Erdei, of Erdei Designs' local custom-designed furniture.
"In all, the event was tremendously successful and we're thankful to everyone who attended," said Moises Agami, CEO at Valor Capital. "I'm happy to know that our guests were very surprised and delighted to see the new standards for relaxed luxury living we've achieved. We've definitely generated a great deal of interest in Serena by the Sea."
Groundbreaking will be in April 2021, when Ryan Serhant says he hopes to be able to attend in person.
Additional credits:

Photographer Aaron Lockwood (@lockwoodstudios) created the visual chronicle of the festivities.
VPN Studios (@vpnstudios) handled the audio/visual, including piping the Capital Theater event into the sales gallery's large LED screen so guests sequestered off per COVID guidelines could view it life-size, in style.
About Serena by the Sea
Valor Capital's newest resort-style, waterfront condominium development, Serena by the Sea offers relaxed, luxury living where its residents enhance their lives, find solace from the confusion and difficulties of daily life, refresh and prepare to conquer life once again. Serena by the Sea is where one can truly pause and appreciate all that they have achieved. Visit http://www.serenabythesea.com
About Valor Capital
Valor Capital is a subsidiary of Terra Capital Partners SA de CV (Terra Capital Partners). Terra Capital Partners has been in operation for over 15 years (while its main partner has over 35 years of experience) and is the parent company of several sub-companies and investment funds that each have a specialization in different aspects of the real estate business (shopping malls, corporate offices, residential buildings, and land development. To learn more, visit http://www.valorc.com