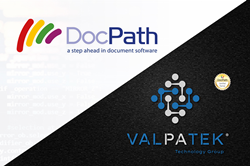 VALPATEK continuously analyzes all different solutions and trends that are available in the market and offer their customers extensive experience so they can be implemented. They work with the main manufacturers worldwide
SUWANEE, Ga. (PRWEB) October 07, 2020
- The company will be implementing DocPath's document technology.

This new partnership reinforces DocPath's document software's competitive advantage.
DocPath, a document technology software company specialized in the development of Document Output Management and Print Spooling solutions, has recently initiated a partnership with the Valpatek Technology group to distribute and implement DocPath´s document software solutions among its client portfolio.
VALPATEK continuously analyzes all different solutions and trends that are available in the market and offer their customers extensive experience so they can be implemented. They work with the main manufacturers worldwide, both hardware and software. They also run ad-hoc projects customized according to the needs of each client.
Valpatek uses high standards to ensure quality while focusing on innovation and integrations. Therefore, there are never two identical projects with Valpatek. Nevertheless, they guarantee satisfactory results in each one of their projects, each installation is being thoroughly verified and they also offer an after-sales service with clear guarantees for their customers.
About Valpatek
VALPATEK TECHNOLOGY GROUP was created as a result of extensive experience in technology projects performed worldwide. Companies from various industries, such as retail, healthcare, public administration, financial, and insurance, rely on Valpatek to meet their needs. A human team that has started its journey together and that has a solid knowledge of information technologies.
For more information, visit: http://www.valpatek.com
About DocPath
DocPath is a leading document software manufacturer that provides its worldwide customers with the technology that allows them to implement sophisticated Customer Communication and Document Output Management processes. Created in 1993, DocPath´s solutions have been implemented in companies all over the world. Among its international clients are prestigious banks and first-class corporations, which are aided by DocPath solutions by simplifying the complicated and critical tasks involving the design and distribution of business and customer documents. DocPath maintains a strong commitment to R&D&i, an area that receives a good amount of its revenue, and in which lies the key to the company´s success.
Disclaimer: DocPath is a DocPath Corp. registered trademark. All rights reserved. Other mentioned trademarks may be the property of their respective owners.