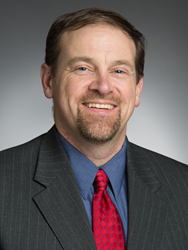 The most rewarding part of my job is to work one-on-one with students.
Valparaiso, Ind. (PRWEB) June 16, 2014
For computer and electrical engineering department chair and professor Jeff Will, Ph.D., his dedication to being a mentor and teacher is now being acknowledged on a national level through a 2014 ASEE National Outstanding Teaching Medal.
The American Society of Engineering Education receives countless nominations each year for their regional and national awards, but only three national awards are presented. The National Outstanding Teaching Medal is chosen based upon knowledge of the subject area, accessibility, effectiveness in curriculum development, mentorship of students and other faculty members, as well as many other factors. Nominees must also teach a minimum of two semester classroom or laboratory courses per year and have a published original work that either enhances the education process or benefits literature in the engineering field.
"I was certainly pleased, certainly grateful and honored to receive the award," said Will, "I couldn't thrive as a teacher without the supportive colleagues that I have around me and the environment which values education."
Doug Tougaw, fellow computer and electrical engineering professor at Valparaiso University, nominated Will for the National Outstanding Teaching Medal. They were recognized previously by the regional ASEE for co-authoring a study and have worked closely for all of Will's 13 years at Valpo.
"He embodies everything that is great about Valparaiso University and our College of Engineering," said Tougaw. "He is brilliant, hard-working, passionate about helping others, and entirely dedicated to his students' learning and success."
This dedication to students' learning is best exhibited in the extra time that Will sets aside to mentor students outside of the classroom, which is what distinguishes him as this year's ASEE National Outstanding Teaching Medal recipient.
"The most rewarding part of my job is to work one-on-one with students," said Will. "In recent years I've worked closely with a student to help him prepare for graduate school. We've done research together in nanotechnology and published the work that he's done. He's going to graduate school in nuclear engineering."
Though Will's work with students is impressive on its own, he also received the Best Paper Award for co-authoring a study, "Problem-based Learning to Promote Student Creativity" and an Outstanding Teacher of the Year award for the Indiana/Illinois section of the ASEE last spring.
Tougaw added, "I'm thrilled that he is being recognized for his contributions to Valpo and to the field of engineering education."
-30-
About Valparaiso University
Valparaiso University is a comprehensive independent Lutheran university with more than 4,500 students on its campus located in Northwest Indiana, an hour from Chicago. Valpo is a community of purpose-driven, service-minded and ethical individuals who embrace the pursuit of truth with freedom, humility and compassion. Valpo has been identified as one of the top master's-level institutions in the Midwest by U.S. News & World Report magazine for the past 25 years. Valparaiso University offers more than 110 undergraduate academic programs through the colleges of Arts and Sciences, Business, Engineering and Nursing. Valpo also has a distinguished honors college, a Law School, and more than 40 degree and certificate programs in its Graduate School and Continuing Studies. Valpo has been recognized for its commitment to outstanding teaching, preparing thoughtful leaders with strong cross-cultural skills and global awareness and dedication to serving others.