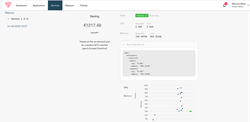 We're welcoming the addition of Vamp Continuous Cloud Optimizer to help our customers cut their resource costs by 30-40%.
AMSTERDAM (PRWEB) September 30, 2020
Vamp, the world's first AIOps platform for Continuous Release Orchestration, today announced the launch of Vamp Continuous Cloud Optimizer, a new machine learning optimization solution that pinpoints the perfect balance between performance and cost for Kubernetes-running apps. Vamp Continuous Cloud Optimizer automatically right-sizes the amount of resources needed to run applications in a Kubernetes environment as a separate product as well as an add-on to its autonomous release technology, which makes it unique in the industry.
Complexity for Operators, Increased Cloud Costs for Business
Many enterprises today are adopting Kubernetes, the container orchestration system, because of the promise the system brings of increased operational agility. Kubernetes has the power to make applications flexible and scalable, as well as cheaper to deploy. However, this promise is offset by its complexity – it offers operators endless options for tuning application performance in production. That makes it impossible for any human to reliably deploy applications and achieve consistently high performance manually. As a result, operators default to over-provisioning to ensure they get the performance they need. This means that with operational agility comes increased operational costs. CFOs are feeling more like Cloud Funding Officers, paying unclear and fluctuating cloud bills.
Vamp Continuous Cloud Optimizer: automatic right-sizing of performance and cost
Compared to Kubernetes's built-in autoscaling capabilities and standard cloud autoscaling solutions, Vamp Continuous Cloud Optimizer uses patented machine learning optimization algorithms, to accurately pinpoint the precise operational capacity needed to run an individual service, while safeguarding application performance. It automatically tunes a wide range of relevant parameters (which can be both resource or application specific) against relevant performance SLA goals (such as throughput and uptime) based on real-time metrics and KPI calculations delivered by Vamp's release orchestration platform.
As with most of Vamp's innovative software, the idea for Vamp Continuous Cloud Optimizer came from its global customers and partners such as Mimecast, WeGroup and Merapar Technologies. Harry Koiter, at Merapar Technologies said, "As more businesses are adopting Kubernetes as part of the move to containers and cloud, they're coming up against the difficulty of balancing performance and resource usage in the system. As a result, companies are always over-provisioned. We're welcoming the addition of Vamp Continuous Cloud Optimizer to help our customers cut their resource costs by 30-40%. Engineers will automatically receive the feedback they need to right-size resource in real-time. That comes on top of the already powerful autonomous release technology that is the Vamp software."
Helping Enterprises Fast-track Their Kubernetes Success
As an autonomous cloud-native release orchestration solution, Vamp already uses intelligent automation to help IT teams release software faster with 100% reliability. The addition of Vamp Continuous Cloud Optimizer fits with Vamp's mission of advancing cloud-native software innovation, something that the Netherlands Enterprise Agency was keen to support, says Vamp CEO Nico Vierhout: "With Vamp Continuous Cloud Optimizer, we wanted to apply innovative technology to solve an issue new in the containerization space, where Kubernetes challenges are impeding enterprise transformation journeys. That message resonated well with our customers and got confirmed by the Netherlands Enterprise Agency, and we're grateful they believed in our vision and provides us with an innovation grant. The addition of Vamp Continuous Cloud Optimizer is the next step in helping us fulfil our mission of making software innovation an autonomous process that moves business forward without the need for human intervention. A select number of innovative companies are currently using Vamp Continuous Cloud Optimizer as an early adopter and Vamp is excited to expand the program to additional early adopters. We're looking forward to working collaboratively with these companies to test and iterate on new features and improvements."