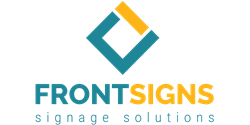 BURBANK, Calif. (PRWEB) October 08, 2020
In the wake of significant growth, Front Signs, a US-based sign-making company, will relocate to a larger and more technologically advanced facility in Burbank, California starting from October, 2020. Becoming the largest sign-making company in the area.
The state-of-the-art factory, located near the Hollywood Burbank Airport on Valhalla drive, provides a sizable facility for the signage production area and showroom. The new amenities will allow Front Signs to carry out bigger projects and provide their customers with even better services.
"At some point, we realized that we need more space to expand our business," said Gevorg Hambardzumyan, CEO of Front Signs. "Our business is growing and we're working with bigger names so our facility needs to correspond to the magnitude of the projects that we have at hand. Besides, moving to a larger location allows us to provide more open job positions to people facing unemployment because of the pandemic."
Previously located in Van Nuys, California, now you can find the Front Signs headquarters in Burbank, California. The company is only changing the address of its fabrication facility. All other contact information, including phone number, will remain the same.
About Front Signs
Founded in 2016 in Los Angeles, Front Signs is a growing signage company that business owners, event planners and interior designers come to when they want stunning signage solutions.
Front Signs builds iconic signs for renowned companies such as Coca-Cola, Los Angeles Times, Six Flags, Disney, Davidoff, MGM Resorts, Burger King, FedEx, Armani Exchange and many others. Since opening, they have served over 500,000 satisfied customers, providing them with first-rate signage services. The company's dedication to their clients' needs along with top-quality services has earned them recognition and customer loyalty throughout the US and Canada.
The company offers not only sign-making services but also cutting and engraving, permitting, sign repair, installation and replacement, painting, large format printing and 3D rendering services. Front Signs is a breakthrough in the signage industry, with a continuously growing list of outstanding products and services to enhance customer experience.
For more information, visit: https://www.frontsigns.com
Contact:
Front Signs
844-833-1188
hello@frontsigns.com
New Address:
3620 Valhalla Drive,
Burbank, CA, 91505