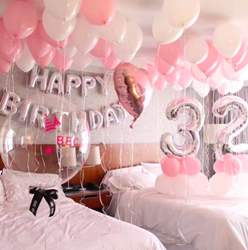 "We're excited to fund ONE UP in its mission to provide all-in-one party services," said Andrew D'Souza, CEO and co-founder, Clearco.
TORONTO (PRWEB) October 13, 2021
Clearco, the world's largest e-commerce investor and the company revolutionizing the way founders grow their businesses, today announced that its ClearAngel program is funding ONE UP, a premium party planning service that provides top quality personalized cakes, balloons and flowers for any event. ClearAngel gives early-stage founders access to revenue share capital, data-driven advice, and Clearco's extensive network of apps, agencies, and investors.
Founded in 2016, ONE UP is different from traditional party planning services, focusing on adapting the one-stop-shop method while prioritizing creative, bespoke and trendy elements for all of your party needs. Co-founder, Lily Gao, has long been passionate about planning unique events that encourage others to be present and create long-lasting memories together. ONE UP has had amazing growth within the Vancouver community but with ClearAngel's support, the team will now have access to innovative tools that will analyze the business in new, comprehensive ways to understand development and growth. ClearAngel will also provide ONE UP with access to higher-tech business strategies helping the business to continue its expansion to different markets.
ClearAngel is one of a few equity-free, flexible capital options for early-stage founders who do not have the network to raise an angel round or join exclusive accelerators. The program has already funded over 350 companies since its February 2021 launch.
"We're excited to fund ONE UP in its mission to provide all-in-one party services," said Andrew D'Souza, CEO and co-founder, Clearco. "Investing in ONE UP reflects ClearAngel's interest in empowering talented founders around the world to continue to grow their business."
In addition to $10,000 of flexible capital, ONE UP will also get access to a network of more than 500 investors, growth teams, agencies, apps, lawyers, and buyers; and data-driven advice designed to help scale and hit new revenue milestones.
"Clearco's support is an integral step in scaling our business to the next level," said Lily Gao, Co-Founder, ONE UP. "With Clearco's investment, we will continue to recruit team members and utilize our growing network to train new hires in strategic marketing and inventory plans."
To learn more about ONE UP and experience their unique party planning services for yourself, visit oneupballoons.ca.
ClearAngel is currently onboarding E-commerce and product companies, and has limited spots available for SaaS, Apps, marketplace and stealth companies. To learn more about applying, visit angel.clearbanc.com.
About Clearco:
Co-founded as Clearbanc in 2015 by Michele Romanow from Canada's Shark Tank (Dragons' Den), Andrew D'Souza, Ivan Gritsiniak, Charlie Feng, and Tanay Delima, Clearco offers the most founder-friendly capital solutions for e-commerce, mobile apps, and SaaS founders of as well as a full suite of products and access to a powerful global network, insights and data, and recommendations. Clearco has invested over $2 Billion in over 4,500 companies to date, including Leesa Sleep, fashion-rental service Le Tote, home goods company Public Goods, shirtmaker UNTUCKit, online speech therapy practice Expressable, and digital real estate marketplace SetSchedule. For more information visit clear.co and @getClearco.