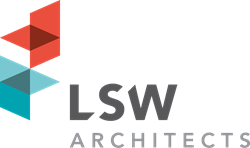 We use our strengths to build more productive teams.
PHOENIX (PRWEB) November 09, 2018
LSW Architects believes that positivity can eradicate toxic habits in the design and building industry. In recognition of the firm's positive impact and culture, Kolbe Corp has awarded LSW with the 2018 Conative Excellence Enterprise Award. The Vancouver-based architecture and design firm received the award Oct. 25 at Conation Nation Symposium — the authoritative conference dedicated to the science of instinctive strengths and human achievement.
Clare Willson, Strategist at LSW, knows how one company can have an impact beyond the walls of its office. "We take a holistic approach to building a team," says Willson. "We begin internally with our clients, owners and engineers, but we also include our consultants, all the way down to our contractors, in using our strengths to build more productive teams."
"LSW values its people as the heart of its success," said David Kolbe, CEO of Kolbe Corp. "This is evident in the way they invest and support them, both personally and professionally." LSW has used Kolbe for over 15 years at all levels within the organization. The company uses Kolbe Indexes and solutions for putting teams together — even the office Olympics — to running team meetings and enhancing their teams' creative development.
LSW Architects received the award at Conation Nation Symposium in Scottsdale, Ariz. LSW Chief Financial Officer Shara Wokal attended along with Strategist Clare Willson. In addition, more than 225 consultants and business leaders attended to recognize and celebrate each of the winners.
About LSW Architects
LSW offers a full range of architectural, interior design and planning services and has been fortunate to partner with remarkable clients over its 60+ year history — resulting in a body of built work that continues to change the face of its Vancouver, Washington community and communities beyond. "Our people are the heart of our success," says CFO Shara Wokal. "Our dedicated team implements their unique talents to positively impact our projects — all the while producing a supportive, lively work environment that naturally breeds a sense of collaboration and creativity."
For more information on LSW Architects, visit: https://lswarchitects.com/
About Kolbe Corp
Since 1977, Kolbe Corp's mission is to help people succeed by having the freedom to be themselves. More than one million individuals have completed Kolbe assessments to better understand their conative strengths – natural instincts that govern action and achievement. Thousands of employers use Kolbe Corp's assessments and consulting services to build and grow more productive, effective and engaged teams.
Kolbe Corp's flagship online assessment, the Kolbe A™ Index, is used by individuals around the world, including Kolbe Certified™ consultants in 34 countries, to understand their natural strengths. It is the most powerful assessment of its kind with proven reliability and validity. Its diverse users include academic thought-leaders, organizational theoreticians and practitioners in the business, non-profit and public sectors.