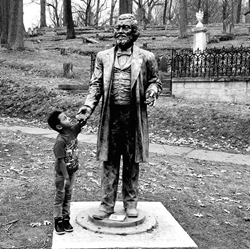 Sends a message of hope to all good people across our great nation.
ATLANTA (PRWEB) July 24, 2020
During the weekend after July 4th, unknown persons toppled and vandalized a statue of Frederick Douglass in Rochester, NY. Douglass was a former slave, prolific writer and orator, abolitionist, and civil rights reformer. His adult life spanned the Civil War and Reconstruction period thereafter. Douglass' most active working period occurred during the 25 years he lived in Rochester.
Dr. John Lipman grew up in Rochester in the same neighborhood as Douglass and remembers the Douglass statue well. As a young man, he learned the significance of the statue's history. Its location in Maplewood Park is important because it includes Kelsey's Landing, where slaves left for Canada on the Underground Railroad. Frederick Douglass' contributions to the early civil rights movement were carried forward by Atlanta icons Martin Luther King Jr., Representative John Lewis, Ambassador Andrew Young, and others. Dr. Lipman has practiced in the Atlanta area for the past 30 years.
When Dr. Lipman heard of the statue's desecration he wanted to help immediately. After learning the details of the incident, he donated $10,000 to the Rochester Community Media Center for the statue. The Frederick Douglass Family Initiatives will manage the restoration effort. Board member Carvin Eison remarked, "The Rochester Community Media Center is extremely honored to receive Dr. Lipman's generous donation in support of our Friends of Frederick Douglass Campaign. Dr. Lipman's gift will not only enable us to replace the statue destroyed at Kelsey's Landing, but it also sends a message of hope to every Rochesterian and all good people across our great nation."
Dr. John C. Lipman is the Founder and Medical Director of the Atlanta Fibroid Center. Dr. Lipman, a prominent interventional radiologist, is one of the nation's leading experts on the non-surgical treatment of uterine fibroids. The Douglass restoration is but one of Dr. and Mrs. Lipman's numerous charitable endeavors, which include Morehouse School of Medicine, Hosea Helps, The Heritage Fund for scholarships to HBCU Medical Schools, National Coalition of 100 Black Women, Atlanta Community Food Bank, and the Atlanta Union Mission.
To learn more about Dr. Lipman and his work, please call his practice at (770) 953-2600 or visit his web site: https://AtlantaFibroidCenter.com