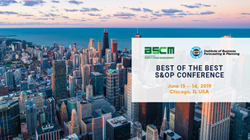 RALEIGH, N.C. (PRWEB) June 11, 2019
ASCM (previously APICS) and Institute of Business Forecasting and Planning (IBF) are the leading education and networking organizations for supply chain professionals.
Organizations send their elite supply chain executives to this conference to expand their perspective on S&OP implementation and improvement for their companies. This conference is a gathering of innovative ideas that can improve any company's overall forecasting process.
Topics covered at this year's conference include:

Effectively use forecasting and demand planning in your S&OP process
Employ integrated business planning techniques
Enhance collaboration across sales, marketing, finance and supply chain
Extend S&OP outside your organization and throughout the supply chain
Manage and mitigate risk
Use S&OP to enhance new product launches
And so much more
Attendees also have the option to obtain Continuing Education (CE) and maintenance credits towards their accounting, supply chain, analytics, ASCM, and IBF certifications.
This conference serves as a learning environment not only for younger professionals but also for lifetime experts, as sessions cover a wide range of expertise.
"This event was very informative and there were great ideas presented that I will be using to improve our forecasting process." - Barbara Thomas, Demand Planning Manager, Ecolab, Inc.
We are excited to be exhibiting again at this year's conference, and we hope that you will stop by to check out some of our newest product developments in Vanguard Predictive Planning.
Or schedule a meeting in advance if you are planning on attending the show.
About ASCM
ASCM is the premier professional association for supply chain and operations management, and the leading provider of research, education, and certification programs that elevate supply chain excellence, innovation, and resilience.
About the Institute of Business Forecasting & Planning
IBF is a membership organization recognized worldwide as the premier full-service provider of demand planning, forecasting, business analytics, S&OP education, bench-marking research, training, certification, world-class conferences, and advisory services.
About Vanguard Software
Vanguard Software introduced its first product for decision support analysis in 1995. Today, companies across every major industry and more than 60 countries rely on Vanguard Software's Predictive Planning, an IBP Platform. Vanguard Software is based in Cary, North Carolina.