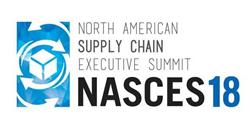 CARY, N.C. (PRWEB) September 06, 2018
The conference takes place on September 11th and 12th in Chicago and includes the following topics:

Supply chain optimization and risk management
Globalizing distribution channels
Managing a dynamic workforce
Leadership and talent acquisition -- training tomorrow's leaders
Latest advances in technology
Big data analytics
Supply chain sustainability
The North American Supply Chain Executive Summit aims to bring together a wide array of industry experts, service and solution providers, and media partners from across North America to network, benchmark, share, and learn real-world solutions to universal challenges that face every SCM professional in their daily work.
In addition to sponsoring and exhibiting, Vanguard is hosting a roundtable discussion during the lunch hour of day one of the conference. Brian Lewis, EVP of Vanguard Software, will discuss how companies can optimize their inventory levels with Prescriptive Analytics and Monte Carlo simulation. Sign up on site as seating is limited.
Visit our booth (Booth #1) to learn more about Vanguard Software, a true integrated business planning (IBP), forecasting, and advanced analytics cloud platform.
About Vanguard Software
Vanguard Software introduced its first product for decision support analysis in 1995. Today, companies across every major industry and more than 60 countries rely on Vanguard Software's Predictive Planning, an IBP Platform. Vanguard Software is based in Cary, North Carolina.