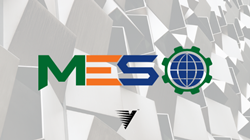 RALEIGH, N.C. (PRWEB) April 21, 2020
MES, Inc., is a full-service provider of global manufacturing and supply chain management services. MES helps its customers find the right overseas manufacturing sources for their products and then guides these parts to their final destination by managing each step in the supply chain process including finishing and assembly operations leading to just-in-time delivery. Headquartered in Columbus, Ohio, they have warehouse facilities in Ohio, California, Texas, and Mexico; as well as offices in India, China, Poland, and Mexico, making the scope of their business truly worldwide.
The mission of MES is to deliver top-quality components in a timely and efficient manner, reducing customer overhead as much as possible.
MES signed with Vanguard Predictive Planning's multi-echelon inventory optimization (MEIO) solution. With our MEIO solution, MES can optimize inventory levels across their entire supply chain while lowering costs, model with different inventory strategies, automate their inventory planning process, and more. Speak to one of our supply chain experts today to find out how you can obtain these improvements in your business.
About MES, Inc.
MES, Inc., helps develop custom engineered solutions by leveraging global manufacturing resources and implementing comprehensive supply chain solutions. MES does this by following five distinct steps including finding and auditing suppliers, developing their quality systems, consolidating shipments at various ports, performing domestic value-added operations, and warehousing near customers and shipping for just-in-time production.
About Vanguard Software
Vanguard Software introduced its first product for decision support analysis in 1995. Today, companies across every major industry and more than 60 countries rely on the Vanguard Predictive Planning platform. Vanguard Software is based in Cary, North Carolina.