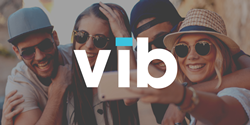 Leading CBD company, Vīb, provides a variety of vape oil flavors, such as passionfruit and cool mint, that are provided with independent laboratory test reports for each batch produced.
MIAMI (PRWEB) November 15, 2019
Anxiety is sweeping the country in epidemic proportions. The Anxiety and Depression Association of America (ADAA) puts the current figures of adults who suffer at 40 million, yet only 36.9% of those receive any form of treatment. Such mental health issues manifest in many different ways, including Post Traumatic Stress Disorder (PTSD), phobias, Generalized Anxiety Disorder (GAD), and Social Anxiety Disorder (SAD). Anyone can be affected, with factors such as life events, genetics, and brain chemistry playing a large part.
Not only can such conditions cause huge difficulties in everyday life, but those who're afflicted are far more likely to seek support from a doctor or be hospitalized for a psychiatric disorder.
The Reality Of Living With Anxiety
While anxiety presents in a multi-faceted manner, some of the more common symptoms include disproportionate worrying over everyday situations, agitation, palpitations, sweaty palms, feeling restless, fatigue, difficulty in focusing and poor concentration, irritability, muscle tension, sleep issues, panic attacks, flashbacks to past traumatic events, irrational fears, and a withdrawal from social situations.
Mainstream treatments to combat anxiety disorders are often behavior-based, such as Cognitive Behavioral Therapy (CBT), or pharmaceutical, with drugs such as Prozac and Zoloft being amongst the most commonly prescribed medications. However, with the advent of CBD products that contain less than 0.3% THC becoming legal in more and more states, many are turning to the natural benefits of CBD oil as an effective alternative.
The Calming Effects Of CBD
The use of CBD is a subject of ongoing study, with one of the most positive aspects of the oil appearing to be that of reducing many of the common symptoms associated with anxiety. While many people relate the word "cannabis" to a substance that alters the state of consciousness, this is not the case with CBD oil. As long as the oil is derived from a hemp plant then it will contain less than 0.3% levels of THC - the substance that causes such euphoria. The oil works in conjunction with chemical receptors within the body, helping to regulate natural bodily functions that gently reduce many of the symptoms of anxiety but with none the intoxication effects brought about by THC.
Multiple studies into the use of CBD for mental health disorders suggest that it's an effective method to help with relaxation, improve mood, and to combat sleep disorders. In addition, it's apparent pain-relieving benefits are well documented, and with discomfort and pain often going hand-in-hand with increasing anxiety and depression this is a further advantage of the wholly natural alternative treatment.
Vaping CBD For Instant Effects
There are many different methods of using CBD, from gummies to tincture drops beneath the tongue. By far the most convenient method is to use a CBD oil vape pen. Not only is this the most practicable method by which to carry the substance around, it also delivers a virtually instant effect. This means that the unpredictable symptoms of anxiety can be treated as and when they occur.
While much has improved around the stigma of taking medication to address anxiety, for many the negative connotations remain. Using a cbd oil vape pen is beyond convenient and nobody can tell that the substance being vaped contains CBD, making it a completely invisible method of targeting symptoms of anxiety.
The key to effectively vaping CBD is to ensure that the oil used is of the greatest quality and guaranteed to contain less than .01% of THC. Leading CBD company, Vīb, provides a variety of vape oil flavors, such as passionfruit and cool mint, that are provided with independent laboratory test reports for each batch produced. This allows users to benefit from a consistent supply of top-quality, THC-free CBD oil, something that's essential when utilizing the substance to target anxiety.
With the number of people living with anxiety only predicted to rise, the use of CBD as a natural remedy is a positive step forward to helping improve the mental health of the nation. Discover more about the guaranteed high quality of CBD oil and vape pens Vīb offers at https://feelthevib.com