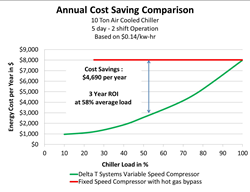 Richfield, WI (PRWEB) May 23, 2017
Delta T Systems is pleased to announce a breakthrough in the design and efficiency of its U.S. made industrial process chillers. The Delta T Systems "VS Chiller" with the variable speed compressor operates effectively between 10% and 100% of its rated capacity. This means a 10 ton chiller can operate very efficiently as a 1 ton as well as up to a 10 ton chiller. This new design applies proven, variable speed "green" compressor technology from the HVAC industry to produce up to a stunning 50% energy savings over traditional hot gas bypass regulation. These energy cost savings can pay for the chiller investment in less than 3 years. In addition, utility companies may offer purchasing incentives and rebates.
The chiller control allows for cloud-based remote management with full featured operational data sets, including suction and discharge temperatures and pressures, water temperatures and pressures, tank level, and many other sensor inputs. These data sets are logged, and alarms can be transmitted in real time to allow complete viewing and operational control via PLC, PC, tablet or phone. In addition, the chiller offers other standard communication protocols, including Modbus and Ethernet.
The unit's enhanced performance benefits from a state of the art controls that can regulate temperature to within 0.5°F. Other important features include electronic expansion valve technology with high accuracy metering to deliver precise refrigerant flow and variable speed condenser fans. The chiller has also been designed from the ground up to offer oversized stainless steel brazed plate evaporators that reduce energy demand, as well as microchannel aluminum condenser coils that eliminate galvanic corrosion.
Safeguarding production output and eliminating downtime are key priorities in all manufacturing processes. Delta T Systems' adaptive controls insure that the chiller system will continue to operate in the event of a problem, and it will not shut down completely. The process can continue to operate without suffering any downtime and lost production until the root cause of a problem is identified and dealt with.
About Delta T Systems
Delta T Systems, located in Richfield, WI, has dedicated itself to one single discipline, process temperature control. Since 1990, Delta T Systems has helped production systems run more efficiently, thanks to their 160 years of combined experience, knowledge, and engineering know-how.
Delta T Systems manufactures water and oil temperature control equipment, as well as, portable air and water chillers. Their full line of system solutions is available in many sizes to fit all process needs, with temperature control ranges from 20°F (-6°C) up to 650°F (343°C). Incorporating sound fundamental engineering principles ensure that customers receive accurate and reliable temperature control and years of unmatched performance. Delta T Systems, American made, high quality units will beat the competition in performance, delivery, and service every time.
For more information about Delta T Systems please visit the website.