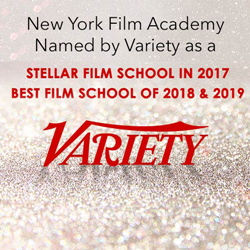 "We are honored to be recognized once again with inclusion in this list. This is a real testament to the efforts of our outstanding faculty and staff." - Michael Young, President of NYFA
NEW YORK (PRWEB) May 23, 2019
The New York Film Academy (NYFA) has made Variety's list of Best Film Schools for 2019 for the third year in a row. The Entertainment Education Report: The Best Film Schools of 2019 lists the industry's top 50 academic institutions and educators around the world, including entries from Beijing to London to Mexico City. The piece details the colleges that offer "cutting-edge instruction" and offer students the tools needed to create, innovate, and influence the industry.
In addition to the school's filmmaking programs, the article praised NYFA's forward-thinking offerings like game design, virtual reality, and 3D animation, calling the areas of study both "innovative and timely." The piece also highlighted the school's flexibility, mentioning the wide range of degree and conservatory options as well as the locations.
NYFA has been a fixture on the list since 2017, when the magazine named it a "stellar" school for film students. That year's list also made special mention of the school's alumni projects, calling out, "Work produced by NYFA graduates has been screened at Cannes, Sundance, Toronto, Venice and SXSW film festivals."
"We are honored to be recognized once again with inclusion in this list," said Michael Young, President of NYFA. "This is a real testament to the efforts of our outstanding faculty and staff. Our team is always looking for innovative ways to serve our students, and it's wonderful to see those efforts getting recognition at this level."
Widely regarded as the authority in entertainment news, Variety has led the industry in film, TV, digital, music, and theatre analysis and insight for more than 100 years. Its highly-anticipated annual list is a veritable "who's who" of the world's biggest players in all forms of entertainment education, and is trusted by influential producers, executives, and talent.
About New York Film Academy
The New York Film Academy (NYFA) is a leading visual and performing arts school that offers hands-on intensive programs across 15 areas of study in New York City, Los Angeles, South Beach/Miami, Gold Coast (Australia), Florence (Italy), and more. Thousands of aspiring artists come to study at the New York Film Academy each year from over 120 countries. For more information, please visit nyfa.edu.