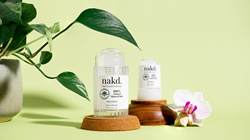 BOSTON (PRWEB) August 13, 2020
Vasarii, a natural personal care product and development company that believes our most intimate products should be made from pristine ingredients, this week announced they are going to launch a brand new product, nakd deodorant, for men and women around the world.
As a Thai Crystal Deodorant formula that includes 24-hour protection, made from only natural mineral salts, nakd will fight underarm body odor, sweat, bacteria, and moisture without added chemicals, dyes, and preservatives.
"Deodorant is immediately absorbed into our skin and glands, making direct contact with our bodies and blood-stream. Therefore, we believe it's important to consider what's inside the deodorant we are using, to ensure longevity and proper health for our bodies," said Josh Spilewski, Founder and Owner of Vasarii. "Made from natural mineral salts, nakd will eliminate odors, bacteria, and sweat naturally, as a purely hypoallergenic product that is safe for men and women."
The nakd Crystal Deodorant stick keeps armpits cool and dry while also preventing odor-causing bacteria for an entire day of coverage. As a more natural alternative to powders, roll-on sticks, or sprays, this crystal deodorant formula effectively halts the production of perspiration, made from the highest quality natural ingredients available in Mother Nature today.
Due to the composition of the salt deodorant crystal formula, nakd is hypoallergenic and gentle on sensitive skin. It is also unscented and a non-staining formula, free of Zirconium and Aluminum compounds that can cause the development of diseases or unnatural cell formation in the body.
No alcohols, perfumes, oils, or emulsifiers are used in the production of nakd. The product presently comes in two sizes: 4.25oz. & 2.5oz.
"Considering Thai crystals made with all natural and organic mineral salt have been used by people in Thailand for hundreds of years, it only made sense to our team to take this basic principle and work it into our crystal deodorant," said Spilewski. "We have created an effective deodorant choice for the men and women of the world who never slow down, yet care about their health and the sustainability of the environment. We are officially excited to announce the launch of nakd today!"
Users so far have claimed that the nakd Thai Crystal Deodorant stick does not leave any red bumps, irritations, or white residue that can rub off of armpits, into shirts, and down the skin while exercising.
Vasarii is known for making unbeatable products at the highest possible beauty standards, backed by responsive and reliable customer service.
For more information, visit: https://vasarii.com/pages/about-us.