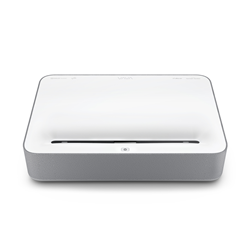 SAN FRANCISCO (PRWEB) November 28, 2019
VAVA, a leading consumer electronics company delivering innovative products, is bringing back the crowdfunding price on their 4K Ultra Short Throw Laser Projector for their Black Friday to Cyber Monday sale.
The VAVA 4K Ultra Short Throw Laser Projector will be available for $2499 during the Black Friday promotion, which lasts from Thanksgiving Thursday 11/28th to Cyber Monday 12/2nd. Additionally, a special bundle which includes a VAVA 4K Projector and a 100" ambient light rejecting screen will also be available in very limited quantities for $2999.99 while supplies last. The Black Friday sale will be available on VAVA and Amazon. This matches the lowest price previously available only during the record-setting Indiegogo campaign.
With it's best in-class picture quality and brightness, along with ALPD3.0 laser technology used by 10,000+ movie theaters worldwide, the VAVA 4K Ultra Short Throw Projector is your next-generation cinematic home theater experience. Put the VAVA projector just 7.3 inches away from the wall, and you can project 100 inch ultra big display screen picture.
Bring the movie theater home for the holidays! Available now on VAVA and Amazon .
Product highlights:
Display Type: DLP
Light Source: Laser (ALPD3.0)
Throw Rate: 0.233
Projection Size: up to 150"
Resolution: 4K
Brightness: 2500 lumen(100%CLO)/ 6000 lumen(Light Source)
Luminance Uniformity: > 88%
Contrast Ratio: > 300:1(ANSI) / > 3000:1(FOFO)
About VAVA:
VAVA is on a mission to make life simple for everyone with smarter products that just works. We believe that the best products stand out by blending in - and are simple to use, thoughtfully designed, of the highest quality, and guaranteed to be worry-free. We take the hassle of choosing products to give you more time to focus on moments that matter the most to you. #LifeMadeSimple
PR Contact
Jeh Lin
Director of Communications
408-455-0274
jeh.lin@vava.com