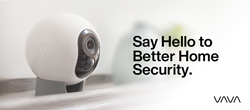 FREMONT, Calif. (PRWEB) June 08, 2020
Today VAVA, maker of devices that bring advanced technologies into your home, announced the release of their VAVA Smart Home Security Camera. Purposefully engineered, this modern wireless home security camera monitors surroundings in real-time and stores recorded footage on the local micro SD card and VAVA cloud storage with no subscription fee for the first three months. The VAVA Smart Home Security Camera features a simple and sleek design for the camera unit, covering a 110° wide angle and 23 feet range.
The VAVA Smart Home Security Camera is now available for purchase at below places:

About the VAVA Smart Home Security Camera:

Clear image and video quality: Crisp 1080p Full HD resolution with H.264 video encoding; Records high quality images and videos with efficiency
Easy to set up and use in any weather: The wireless camera setup takes only a few minutes; IP66 weatherproofing means no worries in the heaviest rain
Night vision & wide camera angle: 7m IR night vision mode makes sure the camera detects movement even in low lighting; 110° wide camera angle guarantees protection from all around
Smartphone app with notifications: Customizable alerts ensure that you are only notified when your camera detects anything out of the ordinary
Secure data encryption: Both the base station and our cloud storage use high standard data encryption to make sure your personal data is safe and secure
For high-resolution images of the VAVA Smart Home Security Camera, see here. For media sample requests, please contact: press@vava.com
About VAVA
VAVA brings meaningful innovation to modern lifestyles. Their speakers, smart cameras, and connected devices combine award-winning design with the most advanced technologies to improve the lives of millions of customers worldwide. For more information about VAVA and their extensive line of products, please visit http://www.vava.com.
*Note: VAVA is a participant in CJ(Commission Junction) affiliate program. Eligible partners can apply for VAVA's affiliate offerings via CJ.