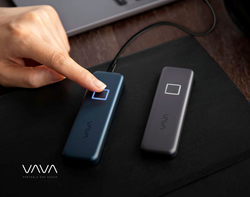 FREMONT, Calif. (PRWEB) September 08, 2020
Today VAVA, maker of devices that bring advanced technologies into your home, announced the release of their VAVA Portable SSD Touch on Indiegogo. Purposefully engineered, this modern SSD drive provides up to 2TB storage with size similar to a lighter. The VAVA Portable SSD Touch features a sleek design, AES 256-bit encryption and fingerprint lock technology. It currently comes in Cobalt Blue and Space Gray, and is available in capacities of 500GB($79.99), 1TB($129.99), and 2TB($249.99).
The VAVA Portable SSD Touch is now available for crowdfunding at below places. The first 250 backers will get an exclusive 40% off discount:

About the VAVA Portable SSD Touch:
Simple touch security: Secure all your files with one simple touch using AES 256-bit encryption. With the capacity for 10 team members' fingerprints, collaborating on projects has never been easier. Unlock using fingerprint authentication or user-generated passwords
540MB/s Lightning Fast Speeds: Transfer 10GB of data in just 10 seconds with the ultra fast speeds of the USB 3.1 Gen2 VAVA SSD Touch. Featuring read/write speeds of up to 540/480MB/s, it's 4.9x faster than standard hard disk drive (HDD)
LED Status Indicator: The VAVA SSD Touch features an LED light that glows when the device is in use. The light blinks blue during data transfer and red when an error occurs, so you know what your device is up to at a glance
Strong and Shock Resistant: Unlike HDDs, the VAVA SSD Touch is free of any moving parts and is more resistant to shock. Constructed of strong zinc and aluminum alloy, the SSD Touch prevents any data loss from drops up to 4 feet (1.2 meters)
For high-resolution images of the VAVA Portable SSD Touch, see here. For media sample requests, please contact: press@vava.com
About VAVA
VAVA brings meaningful innovation to modern lifestyles. Their speakers, smart cameras, and connected devices combine award-winning design with the most advanced technologies to improve the lives of millions of customers worldwide. For more information about VAVA and their extensive line of products, please visit http://www.vava.com.
*Note: VAVA is a participant in CJ (Commission Junction) affiliate program. Eligible partners can apply for VAVA's affiliate offerings via CJ.