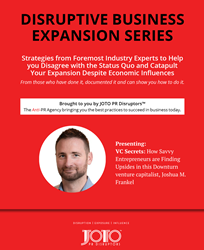 We've become accustomed to marketing following what technology does, but now the message and the method must align with the finance silo in the corporate landscape
TAMPA BAY, Fla. (PRWEB) May 23, 2023
JoTo PR is presenting a free webinar masterclass on Thursday, June 8, 2023, 12:00 PM EST, VC Secrets: How Savvy Entrepreneurs are Finding Upsides in this Downturn, that provides an opportunity to learn from successful venture capitalist, Joshua M. Frankel. In the webinar, Josh will go over simple yet important steps that are creating successful entrepreneurs in an upside down economic environment.
Move over decision-makers. The global economic slump has paved the way for a game-changer in the marketplace. CFOs and accountants have emerged as key power players. Marketers will need to captivate this influential audience and prove their Brand makes impeccable financial sense.
"We've become accustomed to marketing following what technology does, but now the message and the method must align with the finance silo in the corporate landscape," says Frankel. "Your buyers must now be armed to meet the rigidity of revenue expectations in addition to selling features for your customers."
The rules of the game now scrutinize budgets and focus on ROI. A once popular but flawed 'growth at all costs' strategy is being replaced by longer-term business health. The new focus is on RETENTION and UPSELL.
Varying from industry to industry, acquiring a new customer can cost five to seven times more than retaining an old one and a 5 percent increase in customer retention can lead to a company's profit growth by 25% to 95% over time. (1)
BUT what about developing new customers? Frankel notes that it's not black and white; startups must consider a customer's lifetime value (CLV) for balance.
Register Online here
Thursday, June 8, 2023, 12:00 PM EST (US and Canada)
Josh will lay out:

How CFOs and accountants as decision-makers will affect purchases
Are you selling features? Can you draw a direct line to how that results in more revenue for your customer?
Which KPIs VCs want to see
"Can you explain why 'growth at all costs' isn't necessarily viable?"
How it's easy to create copy but without humanness it flattens what is seen and read
Following the Webinar, there will be a rare AMA session (Ask Me Anything) where Josh will answer any questions about the symbiotic relationship between startups and VCs, and more.
Register Online here
Thursday, June 8, 2023, 12:00 PM EST (US and Canada)
Why attend this event?

"Unlike a lot of accelerators or mentors, [LogicBoost Labs] never wanted us to sit in a classroom or spend months learning "startup definitions." We just went out and started selling." Joe De Pinto, Founder, BarPay
"When things go wrong, big investors write you off and move on to their next portfolio darling. Not LogicBoost Labs. They want success as bad as we do – and understand the challenges of seed stage business" Ben Siegel, Founder, Scholars
As an Anti-PR® Agency, JoTo PR Disruptors employs the best practices to succeed in business today. Most PR agencies only provide fluffy visibility, which doesn't account for much that contributes to a successful business.
Goal: Actionable steps you can use to accelerate your growth, which is what JOTO PR Disruptors is all about. We want to help you with usable data that can benefit you professionally and financially.
About Josh Frankel:
Startup founders looking to secure investment or acquisition know technical due diligence is a critical aspect that they can't afford to overlook. While it can be a headache, practical steps to help them prepare for the DD (due diligence) process include avoiding common pitfalls, and effectively communicating with potential investors or acquirers. LogicBoost Labs is a venture capital accelerator that has the expertise, experience, funding and connections to make startups succeed. Josh Frankel is a marketing specialist with a demonstrated track record of success in digital and traditional marketing. For the last fifteen years, he's been helping companies of all sizes build their brands and develop effective digital strategies regardless of their budget. "Some VCs do deals. We back founders." Visit https://www.linkedin.com/in/joshuamfrankel/
About JOTO PR Disruptors™:
After doing marketing research on a cross-section majority of 5,000 CEOs of fast-growth trajectory companies and finding out exactly how they used PR, how they measure it and how they wanted the PR industry to be different, PR veteran and innovator Karla Jo Helms created JoTo PR(TM) and established its entire business model on those research findings. Astute in recognizing industry changes since its launch in 2009, JoTo PR's team utilizes newly established patterns to create timely Anti-PR® campaigns comprising the mathematical precision of crisis management techniques with the latest media algorithms. This unique skill enables them to continue to increase the market share and improve return on investment (ROI) for their clients, year after year—beating usual industry standards. Based in Tampa Bay, Florida, JoTo PR is an established international public relations agency. Today, all processes of JoTo are streamlined Anti-PR services that have become the hallmark of the JoTo PR name. For more information, visit JoTo PR online at http://www.jotopr.com
Sources:
1. Kumar, Saravana. "Customer Retention Versus Customer Acquisition", Forbes, 12 December 2022, forbes.com/sites/forbesbusinesscouncil/2022/12/12/customer-retention-versus-customer-acquisition/?sh=79e4eb861c7d.