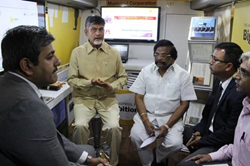 It would be a great opportunity to connect and communicate with the budding enterprises of the city of Hyderabad and help them gain insightful information towards faster, smarter and sustainable growth, said Venu Uppalapati -CEO, vCentric Technologies
Hyderabad, India (PRWEB UK) 10 April 2015
vCentric Technologies, Hyderabad based, is one of the fastest growing IT/ITES organizations in India, with major focus on SAP & an acclaimed enterprise solution provider. vCentric Technologies will actively participate in the multi-city travelling showcase - Ambition Express, an initiative of SAP and lead growth-oriented technology session on the 9th of April 2015 at the Secretariat at Hyderabad on 9th April 2015 at 10:00 AM.
Themed around "Not Just for Big Business, For Big Ambitions Too"- The Ambition Express is being rolled out with an aim for the Small & Medium enterprises to gain more insights into the power of SAP solutions and services to achieve business excellence & empower growth potential.
Speaking on the occasion, Venu Uppalapati- CEO, vCentric Technologies, "We are extremely delighted to have partnered with the Ambition Express. As the Bus tours around the city from April 9th to 13th, it would be a great opportunity to connect and communicate with the budding enterprises of the city of Hyderabad and help them gain insightful information towards faster, smarter and sustainable growth."
Adding said, Sridhar Nandivada – Asst Vice President, vCentric Technologies, "With hands on experience on SAP Solutions in cloud, mobility, analytics and big data, we would be able to consult on the most suited solutions for the SMEs to the customers who visit the Ambition Express. We heartily look forward to engage with our customers and members who are waiting to get on board to seize on this opportunity to gain knowledge and understanding on the most suited enterprise solutions."
vCentric Technologies aims to support and guide Indian enterprises, on the best technology practices.