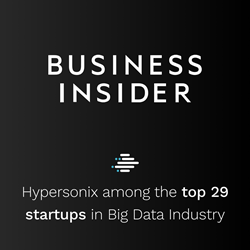 Our solution was created from the ground up to enable data-supported decisioning. It is already delivering daily advantage to leaders at visionary companies like KFC, Smart & Final and Bashas' Family of Stores
SAN JOSE, Calif. (PRWEB) August 05, 2020
A group of prominent venture capital investors has named Hypersonix among 29 top tech startups of the year in the "booming" big data industry, in a report published by Business Insider.
Hypersonix is a cloud platform that helps businesses in e-commerce, grocery, restaurant, hospitality and other consumer-focused industries make better, faster and more confident daily decisions. It uses AI and voice computing to turn their data into actionable business information in real time.
The recognition comes just a few weeks after Hypersonix secured $11.5M in Series A funding, led by Intel Capital.
"Data operations and data engineering have taken off," said the report, in which more than a dozen investors weighed in with their picks for the most promising solutions in the sector.
Observed one of the participating VCs, Derek Zanutto, general partner at CapitalG (formerly Google Capital), "Companies are increasingly collecting vast swathes of data, though it's often fragmented across the silos of their business. This makes tools for processing that data more necessary than ever."
A spokesperson from Intel Capital told Business Insider, "Hypersonix is addressing that need with an autonomous AI platform that uses a virtual assistant to collect and process data stored in different locations and quickly turn them into predictive insights."
"We are honored to learn that Hypersonix has been recognized among this impressive group of innovators," said Prem Kiran, Founder and CEO. "Our solution was created from the ground up to enable data-supported decisioning. It is already delivering daily advantage to leaders at visionary companies like KFC, Smart & Final and Bashas' Family of Stores."
Access the article on Business Insider (subscription required).
VCs say that these 29 companies are the top startups in the booming big data industry
About Hypersonix
Hypersonix offers the most comprehensive cloud-based, AI-powered autonomous analytics platform that enables consumer commerce decision-makers to make smart decisions fast—empowering them to get real-time intelligence, insights and recommendations to take timely actions leading to business success. Hypersonix's predictive and prescriptive analytics can measure and monitor business results, clarify why results are occurring, and recommend actions to drive improvements. Leveraging innovations in Machine Learning (ML), Natural Language Programming (NLP) and real-time data computing, the platform offers a simple, fast "Google-like" experience supported by "Jarvix," a virtual assistant. Designed for Retail, Restaurant, Hospitality, e-Commerce, Consumer Packaged Goods (CPG) and Brand Manufacturers. Hypersonix helps clients drive profitable growth, save money and improve customer engagement. Founded in 2018 by former executives from SAP, PayPal and IBM, the company has been featured in the Wall Street Journal, Fortune, TechCrunch, along with other outlets. It is based in San Jose, with offices in Sacramento, California and Bangalore, India.