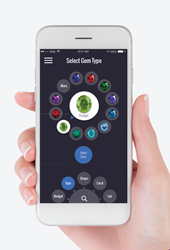 This colored gemstone search tool will save retailers, wholesalers and designers both time and money and will help them compete in the modern world by capturing customer sales, even outside the store.
New York, NY (PRWEB) May 10, 2017
Virtual Diamond Boutique (VDB) is expanding its omnichannel offerings, introducing a free, vibrantly colored gemstone sourcing tool within the popular industry platform. Stunning in design, yet user-friendly, VDB takes virtual personalization to the next level. With a swipe, it is easy to switch between diamond and gemstone searches. Retailers, vendors, and jewelry designers can download the tool across Apple, Google and Android devices, to access an abundance of colorful inventory. Elevating the sales experience, Virtual Diamond Boutique brings easy, next level tech to day-to-day transactions.
"We are changing the way the industry sources gemstones," says CEO and Founding Partner, Tanya Nisguretsky. "Many have tried, and failed, to digitize the colored gemstone search process, but since the launch of VDB, we've been working hand in hand with our vendors and really listening to their needs, challenges and opportunities. With our combined industry experience and expertise, we have created new technology that gem dealers are very excited about. This colored gemstone search tool will save retailers, wholesalers and designers both time and money and will help them compete in the modern world by capturing customer sales, even outside the store."
From the app home page, users can select the colored gem inventory section by clicking on an oval gemstone outline. This opens an easy to navigate budget slider, for adjusting the price range for the stones, as well as an interactive selection wheel at the bottom, which can be rotated to choose stone type, shape, carat weight, lab report information, location of supplier, and country of origin. Brilliantly addressing industry needs, further specifications can be chosen within the wheel. For example, under "lab" users can select which lab reports should be included in the final stone search, with the ability to tap and highlight multiple grading laboratories. The "shape" section allows for not only a variety of cuts, but the ability to choose matching pairs, perfect for designers looking for a set to place into earrings. The "type" section opens a wheel of popular gemstones, and with a tap of a button, further color selections can be chosen. Exquisite in design, and fun to play with, the straightforward navigation is ideal for the next generation supply chain.
VDB offers the same reliable service that vendors and retailers have come to trust through the diamond section of the application. Inventory can be selected for memo, hold or direct purchase, and a real-time messenger service creates chats from vendor to retailer, without the need to pick up the phone or send an additional email.
An exceptional tool, VDB can also be used to train sales associates with a limited understanding of colored gemstone pricing, cut, treatments and certs, making learning easy. Whether self-taught or used alongside an in-house gemological tutorial, VDB provides the information they should know about colored gems, allowing for recognition of stones newly encountered in-store. It can also be used to educate customers when they come in the store, with price settings that are easily adjusted to show no cost, or the retailer's markup.
Gem dealers can list their stones for a nominal fee, uploading HD videos and/or images, full cert details, and contact information. Sales has never been easier, with orders coming in virtually and in real-time. Stores can also choose to list their gemstone inventory for a small fee, allowing them to move inventory within other retailer circles, keeping things fresh in the showcase.
Free to download, and accessible anytime and anywhere, Virtual Diamond Boutique can be accessed on a desktop at http://www.getvdb.com, or on the App or Google Play stores for the iPhone or Android. For more information on how to sign up and get a free username and password, visit http://www.vdbapp.com. Additional training tools are also available on the website.
About Virtual Diamond Boutique
The Virtual Diamond Boutique™ (VDB) is the trade's cutting edge app for visually sourcing gemstones and colored diamonds. Available across Apple, Google and Android, the omnichannel tool is reinventing B2B inventory listings and purchases. To learn more about Virtual Diamond Boutique™, visit http://www.vdbapp.com. For answers to any questions, contact by phone at 212-221-0975 or email info(at)vdbapp.com.
For information regarding this release, please contact:
Olga Gonzalez
Pietra PR
olga(at)pietrapr.com
212-913-9761
Tanya Nisguretsky
Virtual Diamond Boutique
tanya(at)vdbapp.com
212-221-0975