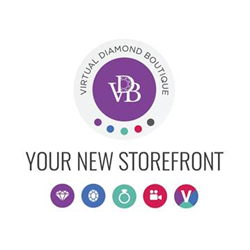 Virtual Diamond Boutique's rebranding has five moving parts to help retailers better promote themselves, making it affordable to create marketing materials in-house.
New York, NY (PRWEB) May 24, 2017
Leading the trade in tech innovation, the free Virtual Diamond Boutique™ app is rewriting the language of the industry. The company's new logo demonstrates a commitment to diversified offerings, with five retail pillars. Meant to increase the bottom line, VDB gives options and opportunities to designers and storeowners. The purple and white logo remains distinguishable within its round stamp, encircled in silver, with the words "Your New Storefront" underneath. Meant to evoke the look customers are used to, with a modern twist, the five pillars are stamped below, each with an identifying color and image. From left to right they represent: purple/diamond for the diamond section, blue/table of a gemstone for the colored gemstone section, green/ring for the jewelry section, red/camera for studio, and multicolor/V for VIMS (VDB Inventory Management System).
Pillar 1: Diamonds. The search that started it all, VDB's diamond platform has hundreds of thousands of inventory options, cutting down on research and increasing the potential for those looking to expand their listing resources. Vendors can upload their stock seamlessly, including full certificate reports.
Pillar 2: Colored Gemstones. Fun and easy to use, VDB's newly launched colored gemstone section is revolutionizing sourcing. Search by stone type, color, shape, origin and budget, amongst dozens of other options, as with the diamond search. In-app real time messaging and communications allow for buying, holds and memos with immediate results.
Pillar 3: Jewelry. Coming this fall, VDB will be bringing jewelry to the mix. For now, the move can be anticipated in the mint green pillar, but stay tuned for the third quarter launch, just in time for holiday stocking. At JCK, the jewelry platform will be demoed on Android, providing a first look on how to move ready to wear stock with ease.
Pillar 4: Studio. During the Vegas trade shows, the industry will have its first look at Studio. The product itself will officially launch in a few months time, but show attendees can drop by booth L112 at JCK, located across from the food court, to catch a glance of what the buzz is about. Now, a smartphone can be used to eliminate the need for expensive photography equipment. Think 360 degrees of in-house creative media, scaled.
Pillar 5: VIMS. VDB Inventory Management System (VIMS) will be officially launching in Las Vegas—another reason why stopping by is a "must do." This cloud-based system will seamlessly integrate the entire VDB app. With a login, managing inventory on the app, assigning other users, changing markups, uploading goods, and alternating between environments as desired, is effortless.
Tanya Nisguretsky, CEO and Founding Partner of Virtual Diamond Boutique, says of the rebranding initiative, "We have decided to take an omnipillar approach to help the industry from all sides. Virtual Diamond Boutique's rebranding has five moving parts to help retailers better promote themselves, making it affordable to create marketing materials in-house. It helps vendors list inventory virtually, with better reach and organization than traditional pen and paper. The only cost to storeowners is the time taken to educate sales staff. As someone who has been in the industry for years, my team and I understand the struggles, and we wanted to create a product that worked to benefit everyone, from selling to sourcing."
Accessible 24/7, from anyplace, the free Virtual Diamond Boutique can be accessed on a desktop, or on the App or Google Play stores for the iPhone or Android. Learn about how to sign up and get a free username and password at http://www.vdbapp.com. Additional training tools are also available on the website.
About Virtual Diamond Boutique
The Virtual Diamond Boutique™ (VDB) is the trade's cutting edge app for visually sourcing diamonds and colored gemstones. Available across Apple, Google and Android, the omnichannel tool is reinventing B2B inventory listings and purchases. To learn more about Virtual Diamond Boutique™, visit http://www.vdapp.com. For answers to any questions, contact by phone at 212-221-0975 or email info@vdbapp.com.
For information regarding this release, please contact:
Olga Gonzalez
Pietra PR
olga(at)pietrapr.com
212-913-9761
Tanya Nisguretsky
Virtual Diamond Boutique
tanya(at)vdbapp.com
212-221-0975