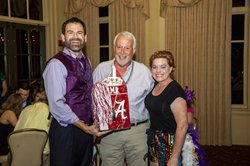 "We're grateful for the support of our clients and partners, who have been helping us make a difference in the lives of the next generation of Huntsville's leaders."
HUNTSVILLE, Ala. (PRWEB) September 11, 2019
Vector Wealth Strategies held its fourth annual Casino Night Saturday, August 24 at The Ledges. The event kicks off a six-month fundraising campaign for student scholarships. With the evening's total, Vector expects to raise more than $60,000 in the coming months. In total Vector's Community Scholars Fund has raised more than $100,000 for local students since 2017. Each year, the themed event allows participants to dress up in costumes, enjoy refreshments and play casino games. While each guest is given chips to play with upon entering, guests may also purchase additional play chips throughout the evening. One hundred percent of those funds are used to transform students' lives through the Vector Community Scholars Fund.
"We're grateful for the support of our clients and partners, who have been helping us make a difference in the lives of the next generation of Huntsville's leaders," Jay Dryden, VWS managing partner, said.
In 2017, the Vector Community Scholars Fund was established to focus on two groups in the greater Huntsville community. Half of the money raised each year goes to a student(s) whose parents or grandparents work in the local defense industry. Recipients are chosen by a committee based on their extracurricular activities and how they plan to give back to their communities in post-graduate life. The other half provides funds for a student(s) who is heading to college as a result of The Cap & Gown Project. The C&G Project focuses on making college a reality for underprivileged students attending high school in Madison County.
A sophomore English major at Vanderbilt University in Nashville, Isiah Franklin, a Cap & Gown graduate, was one of three scholarship recipients in 2018.
"Cap & Gown benefits first-generation college students all across Huntsville," Franklin said. "They educate students on scholarships, admission procedures and financial aid. Cap & Gown's ACT tutoring and college tours made attending prestigious schools with a full ride an achievable goal for myself and my peers." Although some C&G students will achieve a full academic scholarship, the VWS scholarship helps with the many other college related expenses that would otherwise stand in the way of this dream for a student like Isiah.
Cap & Gown Executive Director Emily Heller said Vector's support helps the organization meet its goals.
"Vector's financial support for our students has gone above and beyond that of a typical scholarship opportunity," Heller said. "They have taken the time to understand the complex barriers that face low-income, first-generation, and underrepresented students and work alongside us to address those issues and make college success possible. Vector has been a perfect partner in Cap & Gown's work to holistically support our students through the entire college process and beyond."
This year, five local high school seniors were each awarded a $10,000 scholarship at the second annual Community Scholars Fund Awards Dinner. The 2019 recipients are Samir Allen, Tiffany Dinh, Kayla Dunlap, Candace Jones and Ashley Kimbel.
Allen credits the Vector Scholarship for helping to relieve the financial stress of paying for college while Dunlap said the scholarship gave her the opportunity to attend the college of her choice. "I'm getting to go where I want to go and study what I want to study," Dunlap said. "It means a ton."
Vector Wealth Strategies is committed to serving our community through leadership development. We strive to build up the leaders of tomorrow and replace ourselves over time with the philanthropic funders of the future. To learn more about Vector Wealth Strategies and the Community Scholars Fund, visit vectorwealthstrategies.com/community-scholars-fund/ or call 256-469-7711. For more information on The Cap & Gown Project, visit capandgownproject.org.