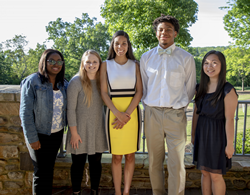 "This is our second year, and the event keeps growing," - Kelly Moise, VWS Senior Partner
HUNTSVILLE, Ala. (PRWEB) September 12, 2019
Five local high school seniors were each awarded a $10,000 scholarship at the second annual Vector Wealth Strategies Community Scholars Fund Awards Dinner Tuesday, May 7 at The Ledges in Huntsville. This year's scholarship recipients are Tiffany Dinh, Ashley Kimbel, Samir Allen, Kayla Dunlap and Candace Jones.
"What an honor it's been to serve as chairperson of this event for the second year," Kim Backer said. "It's been a joy to see the quality of candidates that did apply and then to watch the whole process to evolve to the point when we were able to announce the winners."
In 2017, the Vector Community Scholars Fund was established to focus on two groups in the greater Huntsville community. Last year, three students were awarded a $10,000 scholarship, in comparison to this year's five recipients.
"This is our second year, and the event keeps growing," Kelly Moise, senior partner of Vector Wealth Strategies, said. "This year's scholarship is named in memory of Dana's (Operations Manager at Vector Wealth Strategies) parents, who passed away last year — The Caroll Ray and Joyce Jones Scholarship. Vector's annual Casino Night raises funds, and we match what is raised. We also have a magical client who helps us out with some matching funds as well."
Half of the money raised each year goes to a student(s) whose parents or grandparents work in the local defense industry, while the other half provides scholarship money for a student(s) who is heading to college as a result of The Cap & Gown Project. The C&G Project focuses on making college a reality for underprivileged kids attending high school in Madison County. The recipients were chosen by a committee based on their extracurricular activities and how they plan to give back to their communities in post-graduate life.
Tiffany Dinh played an instrumental role in initiating cybersecurity programs at Huntsville High — programs in which students receive industry-standard certifications. Dinh maintains a 4.0 grade point average and plans to major in computer engineering. Her dream is to become a chief information security officer and lead national initiatives on cybersecurity.
Ashley Kimbel attends Virgil I. Grissom High, where she has a 4.42 grade point average. For her advanced manufacturing and design class, she designed a carbon fiber artificial limb for a veteran amputee who wanted an enhanced range of motion for athletic use. Kimbel plans to major in biomedical engineering and become a surgeon.
Semir Allen has improved his grades and his ACT score since starting Cap & Gown two years ago. "I've overcome failing with barely a 2.0 GPA to going up almost a whole grade level in one year alone," he said. Allen attends Lee High School, and he plans to become a math teacher.
Kayla Dunlap attends Lee High School, and through Cap & Gown, she drastically improved her test taking skills on the ACT. Dunlap's goal is to attend college and study physical therapy to help children in her community.
Candace Jones maintains a 4.3 grade point average and No. 4 ranking at Mae Jemison High — she is no stranger to hard work. Cap & Gown helped Jones explore college campuses and plan for her future. She plans to become an optometrist and help families who cannot afford glasses.
"Meeting these students truly restores your faith in the future of our world," Jay Dryden, managing partner of Vector Wealth Strategies, said. "Hopefully next year we'll be able to award even more scholarships with a successful Casino Night and donations."
Vector Wealth Strategies is committed to serving our community through leadership development. We strive to build up the leaders of tomorrow and replace ourselves over time with the philanthropic funders of the future. To learn more about Vector Wealth Strategies and the Community Scholars Fund, visit vectorwealthstrategies.com/community-scholars-fund/ or call 256-469-7711. For more information on The Cap & Gown Project, visit capandgownproject.org.