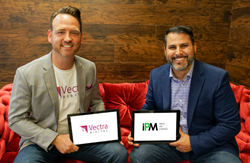 This acquisition is going to change the marketing landscape in Southwest Florida: Stay tuned!
FORT MYERS, Fla. (PRWEB) January 22, 2020
Vectra Digital announced today that it has completed its acquisition of iPartnerMedia, Inc., a digital marketing firm and public relations agency based in Bonita Springs, FL.
"We're very excited about this winning combination and the future of digital marketing," says Matt Bernhardt, CEO of Vectra Digital. "We pursued iPartnerMedia because of its outstanding reputation in the community for building personal client partnerships and delivering data-driven results. This acquisition is going to change the marketing landscape in Southwest Florida: Stay tuned!"
Vectra Digital's procurement accelerates its strategy and presence in the digital marketing industry. Its proprietary technology and growing client base put Vectra Digital, a portfolio company of The Ignite Partners, in a powerhouse position the likes of which Southwest Florida has not yet seen.
"The digital marketing space is surrounded by outdated services," says Felix Lluberes, CRO at Vectra Digital. "We want to change that by incorporating innovative and cutting-edge technologies to marketing and sales. By leveraging artificial intelligence, we will shake up the industry and have our clients' value skyrocket. We're ready to get started."
Albert Arguelles, founder of iPartnerMedia, will stay on as President at Vectra Digital.
"This opportunity is something that doesn't usually come along every day," he says. "We have been watching Vectra since they came on the marketing landscape in 2017. Being able to combine our expertise and the artificial intelligence technology that Vectra brings is going to result in efficiencies and value that will knock it out of the park."
Vectra Digital was named to the GrowFL Top 50 Florida Companies to Watch list in 2019 and is known for Ada, the company's proprietary artificial intelligence-based marketing tool that writes ads and manages digital accounts 24 hours a day.
The terms of the sale were not disclosed.
ABOUT VECTRA DIGITAL
Vectra Digital is an award-winning, high-tech, full-service marketing and intelligent web design agency and the sister company of Stickboy, a custom software firm. It is located at 12401 Brantley Commons Court, Suite 101, Fort Myers, FL 33907. The company is open to future acquisitions. Learn more at https://www.vectradigital.com/ or call (239) 234-2566.
ABOUT THE IGNITE PARTNERS
The Ignite Partners is a business strategy advisor and accelerator based in Fort Myers, FL, that focuses on market growth and technology intellectual property. Learn more at http://www.theignitepartners.com.
ABOUT IPARTNERMEDIA
Bonita Springs-based iPartnerMedia, Inc. is a digital marketing and public relations agency serving businesses in varying industries across the United States. The talented team has extensive experience in digital marketing including website design and lead generation. Learn more at http://www.ipartnermedia.com.