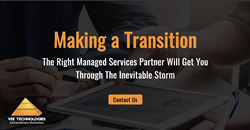 "Healthcare organizations are seeking technology & operations partners that enable them to focus on mission-critical processes. Vee Technologies' commitment to world class standards in quality, accuracy & security is a match to ACHT's mission" Irma Rastegayeva, SVP Marketing & Strategic Engagement
NEW YORK (PRWEB) May 13, 2020
Vee Technologies, a technology-enabled professional services and consulting organization that offers a full suite of end-to-end revenue cycle and risk adjustment solutions, will be presenting a webinar to the American College of Healthcare Trustees. The webinar, covering telehealth and risk adjustment, will help identify ways to overcome operational issues that organizations may have experienced during the COVID-19 pandemic.
The webinar will be held Thursday, May 21st, 2020, at 12:00pm ET, and will cover topics including:

Risk adjustment
Implementing a virtual scribe
How to properly implement a telehealth program
New codes specific to COVID-19
Rules and regulations regarding telehealth
Resources necessary to utilize a telehealth program
Coding and billing in a telehealth environment
Frequently asked questions
"The American College of Healthcare Trustees' mission is to improve health care decision-making and to provide educational resources to our Fellows and the organizations they serve. We have had a long-time interest in telehealth because we believe it will be one of those disruptive technologies that improves the patient experience, increases care quality and safety, as well as financial sustainability," said David Levien, MD, MBA, FACS, President and CEO of ACHT. "That's why we are particularly pleased to support this webinar offered by the premiere organization in the telehealth space, Vee Technologies."
"Now more than ever, healthcare organizations are seeking technology and operations partners that enable them to focus on mission-critical processes," said Irma Rastegayeva, MSc, MSEM, FACHT, SVP Marketing & Strategic Engagement, ACHT. "Vee Technologies' commitment to world class standards in quality, accuracy and security is a great match to ACHT's mission."
To learn more about Vee Technologies and their suite of solutions, visit VeeTechnologies.com.
To learn more about the American College of Healthcare Trustees, visit facht.org.
To register for the webinar, visit https://survey.zohopublic.com/zs/ybB33r.
About ACHT
The American College of Healthcare Trustees (ACHT) is a national professional association dedicated to promoting high performing, competent, qualified, ethical governance and leadership in healthcare that is person-centered and accountable by providing continuing education, resources, and networking.
Become a Fellow of the American College of Healthcare Trustees now: https://bit.ly/joinACHT.
About Vee Technologies
Vee Technologies is a leading professional services and consulting organization headquartered in New York City and Bangalore. The company works as a trusted partner to enterprises and organizations around the world, delivering technology-enabled solutions for extraordinary outcomes in quality and cost. Client satisfaction achievements have consistently qualified Vee Technologies for the IAOP Global Outsourcing 100 list of the world's top outsourcing service providers and powered the company's growth onto the Inc. 5000 list as one of the fastest growing American companies.
For media inquiries or more information contact:
Steve Meier
Director, Marketing | Vee Technologies
489 5th Avenue, 19th Floor
New York, NY 10017
(646) 837-0837 | smeier@veeusa.com