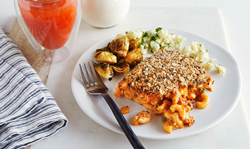 "Safety is at the forefront of all our efforts," she said. "We have stepped up all our safety procedures and have added the recommendations from the CDC as well to ensure our employees stay healthy and safe."
LOS ANGELES (PRWEB) April 02, 2020
Plant-based meal delivery service Veestro continues to monitor new developments in the coronavirus outbreak and understands the challenges people face to secure food at a time when crowds are emptying grocery store shelves.
With the mission to always provide healthy, quality, chef-prepared meals, Veestro continues to fill orders following all standard food safety procedures in addition to new ones in place, specifically for the COVID-19 situation.
At a time when many businesses are slowing down, Veestro is ramping up, with a preparedness plan set in place at the facility. The brand continues to check all Center for Disease Control (CDC) daily updates to modify food processes accordingly. Team members are also continuously educated on all food safety measures.
According to co-founder and CMO Monica Klausner, Veestro employees are working as hard as possible to ensure that they can deliver healthy meals to all customers when they need them most.
"Safety is at the forefront of all our efforts," she said. "We have stepped up all our safety procedures and have added the recommendations from the CDC as well to ensure our employees stay healthy and safe."
Here are some other healthy precautions implemented by Veestro:
All workers have their body temperature taken prior to their shifts as well as all persons entering our facilities.
All workers who are sick or have a temperature higher than 99.1 are required to stay home (as per the CDC).
The facility is undergoing heavy environmental cleaning and sanitizing of all work surfaces and other areas constantly.
Extra hand-washing and hand-sanitizing stations have been throughout the workplace.
Veestro is closely monitoring the situation and continues making adjustments to its safety practices as recommended by the CDC. According to the Food and Drug Administration, there have been no reports that suggest COVID-19 can be transmitted through food or food packaging.
In addition to serving customers in the safest manner possible, Veestro donates meals to hospital teams every week to provide them with some relief and to help keep them healthy.
"That's the best way in which we can contribute to this unprecedented situation," Klausner said.
About Veestro: Whether you're looking to eat healthier, achieve weight loss goals or have dietary restrictions, Veestro has a variety of plant-based meal options that bridge the gap between taste and convenience. You get restaurant grade, chef-prepared food delivered to your doorstep without paying the bistro price. Mark Fachler and Monica Klausner put their backgrounds in business and marketing to work to found the brand others were hungry for in the corporate world. The brother and sister team grew up in Costa Rica where fresh, home-cooked meals made with an abundance of fruits and vegetables were the norm. Their local diet contributed to the "pura vida" lifestyle, meaning what you ate helped you to thrive and be happy. Veestro's mission is to bring that "pura vida" right to your doorstep with delicious, healthy, and sustainable plant-based meals.