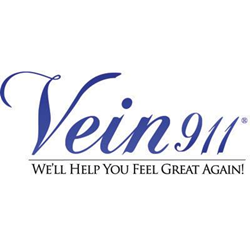 "Vein disease is common yet poorly understood by patients and the physician community. We feel a deep responsibility to educate patients and physicians about the effects of vein disease on health and wellness, and have fun while doing it." -- Dr. Chris Pittman, CEO of Vein911® Vein Treatment Centers
TAMPA, Fla. (PRWEB) May 07, 2020
Vein911® Vein Treatment Centers announced today the ongoing filming of a reality TV show pilot featuring compelling patient stories and their journeys to renewed health, wellness, and cosmetic appearance. The show highlights the often-hidden aspects of vein disease, which affects over 50% of Americans. The show features state-of-the-art diagnosis and non-surgical treatments including Vein911's award-winning, world-renowned brand and culture. Patients come from all walks of life as well as athletes, celebrities, politicians, and businesspeople. The pilot is being produced so it can be picked up for syndication through cable or streaming service providers.
Vein disease is poorly understood by patients and the medical community. Most of us recognize varicose veins of the legs, however, 50% of those with significant vein disease never develop bulging varicose veins. Vein disease is recognized as a common cause of lifestyle-limiting problems including leg pain, heaviness, ankle swelling, restless legs, and night cramps. Because vein disease is genetic, it affects even those in excellent health and physical condition.
"I was invited to serve as Chair of the Healthcare Advocacy Committee of the American Vein and Lymphatic Society in 2017. After a year speaking at national and international vein meetings, I felt the best way to advocate for vein disease and to influence physicians and the public was to create a reality TV show", said Dr. Chris Pittman, Medical Director and CEO of Vein911® Vein Treatment Centers.
"The physician community generally downplays or dismisses vein disease as a cosmetic problem. I feel a deep and passionate responsibility to widely educate patients and my physician colleagues about such a common disease process that is also poorly understood. I'm compelled to share the riveting stories of patients who have spent years seeking answers for their leg problems, but who are often dismissed or do not receive the right answers", said Dr. Pittman.
About Vein911® Vein Treatment Centers
Vein911® is a leading provider of both medical and cosmetic vein care including varicose veins, ankle swelling, restless legs, night cramps, venous leg ulcers, and cosmetically disturbing veins of the hands, face and legs. Our award-winning, world-renowned vein treatment centers offer state of the art technology within elegant and comfortable surroundings and a family atmosphere. Vein911® is the varicose vein and spider vein treatment center of choice for physicians and their patients who are experiencing vein disease. Our vein treatment centers are conveniently located throughout the Tampa Bay area and are led by world-renowned, board-certified vein care physicians. Our Mission: We'll Help You Feel Great Again!® Our Vision: Ritz-Carlton service, Disney fun, and FedEx delivery — to be America's choice for vein care.
Chris Pittman, M.D., FAVLS, FACR
Vein911® Vein Treatment Centers
+1 813-833-1249
Facebook
LinkedIn
YouTube
Instagram
Twitter