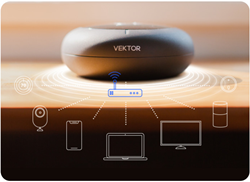 We're exciting that crowdfunders are supporting our campaign for Vektor, which allows them to retain control over their home network or their small business network, even if they have no technical background.
LONDON (PRWEB) February 25, 2019
Vektor, the home cybersecurity and privacy device created by Q-Branch Labs that can be easily connected into nearly any home router to provide enterprise-grade security, has surpassed its $50,000 crowdfunding campaign goal on Indiegogo.
"We're exciting that crowdfunders are supporting our campaign, which allows them to retain control over their home network or their small business network, even if they have no technical background," said Q-Branch Labs founder and former head of Facebook's Security Tools team Jim McCoy. "With Vektor, consumers who feel they've lost some measure of control over these networks will find a solution with this game-changing device."
By analyzing network traffic, Vektor can detect malware infections much earlier than traditional antivirus programs. This home cybersecurity device builds a model of the user's normal network traffic so it can detect the abnormalities that may signal a developing attack.
While many aspects of an attack can be hidden, malware must always communicate back to those who sent it. When Vektor sees a lot of DNS requests pointing to hot spots of abuse, it blocks that traffic and warns users of potential infections through its easy-to-use mobile app.
McCoy notes that many people are adding new internet-connected devices to their network all the time, but many are usually poorly secured, never updated and open holes in their computer network.
"In a world where hackers can hide in your lightbulbs, talk to your children through the smart TV, and take control of your network through your internet-connected doorbell, Vektor provides the safety and security you need," he said.
In addition to securing a home computer network, Vektor provides strong privacy protections including ad and web tracker blocking, Virtual Private Network (VPN) management and encryption of core internet protocols to prevent tracking by the consumer's Internet Service Provider (ISP). For parents, Vektor can also give them the ability to control access times and content for children's devices.
McCoy, a graduate of Northwestern University, is a veteran of the dot-com era and a long-time security professional who ran the security tools team at Facebook that was responsible for building the tools and systems used to protect Facebook's corporate network from some of the best hacking teams on the planet.
"While with Facebook, I discovered that my friend's and family's networks were just as vulnerable to hackers, but they lacked the ability to protect themselves," McCoy said. "This put me on the path to develop Vektor to provide any consumer with enterprise-grade protection in an easy-to-use device that enables non-experts to keep their network safe."
Vektor features include:
 Strong cybersecurity

Advanced intrusion detection
Malware and phishing attacks are automatically blocked
An AI-powered firewall that learns what 'normal' is for the user's network and blocks unexpected connections
Vulnerability scanner and protection agent that blocks known attacks on Internet-connected devices
Automatic updates to the latest threat intelligence available so users are protected from new attacks
 Privacy protection

Ad blocking and web tracker blocking for all devices in the user's home
VPN manager that extends VPN to all devices in the home, even those that normally can't use a VPN for privacy protection
Network lookups and core functions are automatically protected by encryption, so the computer owner's ISP can't monitor them or sell their browsing data
 Network Control

Shows users all connected devices in the home (even those forgotten about) and gives them the power to disable network access for any of them
Parental-control features that allow user to set internet limits for kids or limit them to kid-safe websites
W-Fi features that allow users to create a VPN-only network or a temporary network for guests that doesn't require the owners to share their Wi-Fi passwords
For more information or to purchase Vektor at an early-bird discount during crowdfunding, visit the Vektor Campaign Page on Indiegogo.