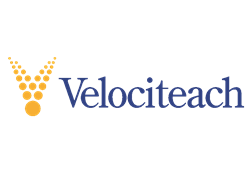 LOS ANGELES (PRWEB) November 08, 2021
Velociteach, the leading provider of instructor-led and online project management training, has published a new white paper detailing some of its best practices for virtual delivery. Due to the company's many years of experience with virtual delivery, Velociteach was able to share advice with the training community when the pandemic forced a shift in traditional class delivery methods. Written by the company's Manager of Curriculum Development, Louis Alderman, this paper is available for download online directly through Velociteach's website.
Alderman's paper is aimed towards instructors of virtual courses, but it also has notable value for both project managers and HR professionals. He channels Velociteach's years of experience with virtual classrooms to provide insights for HR professionals to best conduct virtual courses for their team members. In addition, Alderman writes about how best to prepare for these courses to gain the maximum value from the time invested in these sessions.
Velociteach has offered virtually-delivered, instructor-led Project Management training courses since 2011 and was fully prepared for the transition to a fully-digital presentation when the COVID-19 pandemic began. This delivery method enables project managers to work towards earning their PMP® or PMI-ACP® certifications from the comfort of their own home, reducing impact to their traditional work schedule and eliminating travel costs. For employers,a virtually-delivered training course enables them to conveniently offer the same high-quality curriculum to multiple employees simultaneously, even when they are spread across the globe.
Velociteach is used and trusted by over 250,000 people and provides exam preparations for the PMP®, as well as offering approved SHRM® and HRCI® credits. Companies like Adobe, FedEx, Ebay, and Verizon all utilize Velociteach to provide best-in-class training to their employees and help them bring their best to the workplace each day. More information on what to expect in a virtually-delivered class with Velociteach can be found in this informational video shared by the company.
About Velociteach: As the leading provider of Project Management training and home of the 'Manage This' podcast, Velociteach provides a variety of resources for working professionals looking to gain valuable workplace skills. Through a variety of online and instructor-led courses, people can gain knowledge that will help them earn valuable work certifications such as the PMP®, CAPM®, or PMI-ACP®, or to maintain existing credentials with required credits. More information is available online.