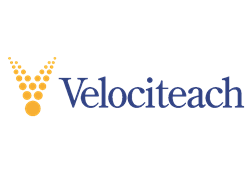 LOS ANGELES (PRWEB) November 01, 2021
A new episode of Velociteach's 'Manage This' podcast goes in-depth on recent changes to the PMP® exam that has been released on the company's website. Host Bill Yates is joined by Velociteach Manager of Curriculum Development Louis Alderman, as well as Samuel Mills, PMP, a podcast listener who recently passed the PMP® exam himself using Velociteach. The episode aired on September 6th, and is a total of 45 minutes in length.
Recently, the Project Management Institute updated the test for its premiere certification, the PMP. Whereas the Exam Content Outline would have traditionally covered five 'domains' of the workplace, this has been shortened to just three: People, Process, and Business Environment. These domains have been delineated further with Tasks and Enablers. Additionally, the examination now includes more coverage of Agile, a strategy of project management largely associated with software development, in which project teams focus efforts on delivering value early and often through frequent, incremental deliveries of working products. In summary, the PMP Exam now covers 3 approaches to managing projects: predictive, adaptive, and hybrid.
Yates and Alderman will discuss how much of the exam is dedicated towards these subjects, and provide exam tips to help listeners succeed. Joining the podcast is guest Samuel Mills, a Velociteach student who recently passed the PMP® examination himself and shares his experience. Mills discusses his decision to take the exam fully online, how he prepared for it, the time management strategies he used to complete it online, and why he took it.
In the episode, Yates explains that "...it's a scenario-based exam. So many of the questions are going to present a scenario. We'll see less of the calculations and more of the analysis of the data. We'll see less about ITTOs, the Inputs, Tools, Outputs, and more about the actions of project managers to have a successful project."
Episode #136 of Velociteach's 'Manage This' podcast is now available for free online. For those working towards recertification, listening to this episode will grant 0.75 Technical PDUs towards your requirement.
About Velociteach: As the leading provider of Project Management training and home of the Manage This podcast, Velociteach provides a variety of resources for working professionals looking to gain valuable workplace skills. Through a variety of online and instructor-led courses, people can gain knowledge that will help them earn valuable work certifications such as the PMP®, CAPM®, or PMI-ACP®, or to maintain existing credentials with required credits. More information is available online.