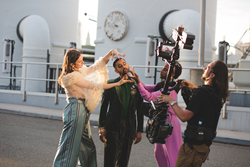 Common Questions was full of production miracles: the cast and crew coming together to create something so honest and true to the artist's vision.
BROOKLYN, N.Y. (PRWEB) July 10, 2020
Velocity Creatives, a full-service film and photography production company, announced today the release of the music video for Aish Divine's single Common Questions.
The single and music video debut today in anticipation of Divine's third studio album, The Sex Issue. "Common Questions" is directed by Jessica Baston ('Oracle') and produced by Brooklyn-based Velocity Creatives, led by its founder Natalie Schwan.
In the video, Batson leads the cast and crew through a futuristic set with a nonconforming gender dance of color and feeling. Guided by the desire to cast from a pool of diverse local talent in ethnicity, gender identity, and sexuality, Velocity and Schwan captured the essence of the avant-garde inspired song, which analyzes the modern queer dating scene that now exists largely online.
Filmed in one day, the concrete dominant filming location contrasts the bright clothing and makeup that Divine and the cast wears throughout the video. Taking cues from Divine's music and artistry that everything including genre, gender, and sexuality is fluid, the cast and crew is largely non-male and the wardrobe breaks traditional stereotypes.
"Common Questions was full of production miracles: the cast and crew coming together to create something so honest and true to the artist's vision," said Schwan, founder of Velocity Creatives, who has focused her career on creating stories that inspire and accurately represent all human experience. "It is a testament to the partners and work Velocity has been doing over the past few years that we were able to bring Common Questions and Aish's music videos to their highest forms."
"Common Questions" is the first of three videos that Divine and Schwan collaborated on for Divine's The Sex Issue. "Common Questions" and videos sooned to be released Webby Award-nominated "BBC" and "Jungly" have already received 30 Telly Awards.
"Every culture has it's shadow, the queer community included, and 'Common Questions' is an attempt to bring those shadows into the mainstream," said Divine. "The fast-paced beats and colorful visuals juxtapose lyrics that speak to underlying prejudice within the queer community that many face, especially when using online dating or hookup apps." Working closely with Velocity throughout the process to stay true to his goal of The Sex Issue, Divine wanted to start an honest conversation about sex and sexuality, as well as question who is talking about it.
Divine sought out a production company that could deliver on his commentary about how we understand sexuality when mainstream portrayal of sexuality fails our living reality. To do this, he required creatives who could understand his vision across the stages of production.
On finding Velocity and working with Natalie, Divine said: "To truly make a difference, I wanted a production team, directors, and cast with whom I have a shared struggle, a shared agenda. This project, our collaboration, is real. It's of the moment. It isn't just lip service on a diverse, inclusive, new face of the future. You are looking at the future."
About Velocity Creatives
Velocity Creatives is a New York based, boutique production company founded in 2015 by Natalie Schwan, an award-winning film director and producer. Velocity aims to create visual stories across project types, offering full production services for commercial, corporate, or creative projects. From initial brainstorming to casting to post production, Velocity Creatives is prepared to bring to life a meaningful story, as shown by their team's impressive portfolio of work. To request a quote or view their work, visit velocitycreatives.com, or follow the brand on Instagram (@velocitycreatives), Facebook (@velocitycreatives), and Vimeo (@velocitycreatives).
###