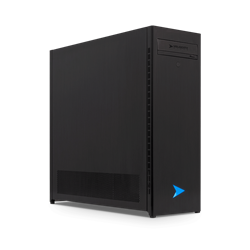 With the inclusion of the Threadripper PRO into our workstation line, we now have the most powerful, versatile set of professional solutions available anywhere.
RICHMOND, Va. (PRWEB) March 02, 2021
Velocity Micro, the premier builder of award-winning enthusiast desktops, laptops, high performance computing solutions, and professional workstations announces the immediate availability of an AMD Ryzen™ Threadripper™ PRO Processor-powered workstation - the ProMagix HD150. Designed for CPU intensive applications like data calculation, rendering, machine learning, and AI, the HD150 exclusively features Asus® WRX80 motherboards with up to 128 CPU-threads and 2TB of 8-channel DDR4 ECC Registered RAM, all in a standard ATX desktop form factor. This enormously powerful workstation can be optimized for any professional workflow to help the world's brightest minds solve previously unsolvable problems or dramatically reduce render times on even the most complex projects. Configurations start at $4,629.
"Our heritage is rooted in building expertly crafted, ultra-powerful desktop workstations for demanding professionals, and has been since I founded the company in 1992," said Randy Copeland, President and CEO of Velocity Micro. "With the inclusion of the Threadripper PRO into our workstation line, we now have the most powerful, versatile set of professional solutions available anywhere. The performance advantages and resulting productivity boost to CPU intensive workflows are nothing short of incredible."
"The Velocity Micro ProMagix HD150, powered by AMD Ryzen Threadripper PRO Processors, delivers the extreme performance and robust security features to handle the most demanding professional environments," said Chris Kilburn, corporate vice president and general manager, client component business unit, AMD. "Whether it's artists and creators developing stunning visual effects or architects and engineers working with large datasets and complex visualizations, users can be confident their system has the power to get the job done."
"ASUS is a world renowned PC hardware provider for gamers and creators. Our Pro WS WRX80E-SAGE SE WIFI motherboard is designed to unlock the full potential of AMD Ryzen Threadripper PRO processors with ultrafast connectivity, server grade remote manageability and 24/7 stability," said Margaret Chen, GM for ASUS OPBG Americas. "The Pro WS WRX80E-SAGE SE WIFI leverages the full spectrum of compute capability to deliver a tremendous boost in multitasking productivity. It's ideal for professional content creators and engineers looking to upgrade to the ultimate professional workstation to get more done in less time."
Key features of the new ProMagix HD150 with AMD Ryzen™ Threadripper™ PRO Processors include:

Up to 64 cores/128 threads @ 4.2GHz Boost and 256MB total cache
Asus WRX80 motherboards including the Pro WS WRX80E-SAGE SE WiFi
Up to 2TB of DDR4 ECC Registered 8-channel RAM
128 PCIe Gen 4.0 lanes
Full ATX, all aluminum Velocity Micro custom chassis designed for optimal airflow and thermals
Closed loop liquid cooling solution for quiet operation, even under load
100% US-based lifetime support
All Velocity Micro workstations ship from and are supported in Richmond, VA with no preinstalled bloatware. To custom configure a ProMagix HD150 powered by WRX80 and AMD Ryzen™ Threadripper™ PRO Processors or another meticulously crafted workstation PC and take your work to the next level, visit VelocityMicro.com or call 804-419-0900.
About Velocity Micro
Velocity Micro is the premier high-performance personal computer provider in North America. Founded in 1992, Richmond, VA-based Velocity Micro custom builds award winning gaming, mobile, multimedia, small business, custom workstation, and pro visualization supercomputers. Velocity Micro products are currently available in retail from Newegg.com and Amazon.com. For more information, please call (804) 419-0900 or visit http://www.VelocityMicro.com
Velocity Micro has earned over 75 industry awards, including 19 PC Magazine Editor's Choice awards. CNET, Digital Engineering Magazine, Maximum PC, PC World, Wired Magazine, and PC Gamer editors have all chosen Velocity Micro systems as some of the industry's best-performing, highest-quality, and most reliable PCs.