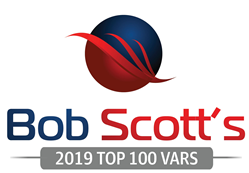 "This leadership award validates our market position of helping clients define and achieve their 'next' through cloud technology. We are no longer asking the question 'When will the cloud catch on?' Our clients are telling us 'It already has.'"
COLUMBUS, Ohio (PRWEB) June 14, 2019
Velosio, a technology partner specializing in business management solutions for small and medium-sized companies and larger enterprises, is excited to announce it has received the Bob Scott Top 100 VARs for 2019 award.
The Top 100 resellers are chosen from organizations specializing in the sale and implementation of Enterprise Resource Planning (ERP) and accounting software.
"We want to congratulate this year's class of Bob Scott's Top 100 VARs," said Bob Scott, executive editor of ERP Global Insights (formerly known as Bob Scott's Insights). "This selection represents recognition of leaders in this important field."
"Velosio is in growth mode, and this is an exciting time for us," said Jim Bowman, Chairman & Chief Revenue Officer, Velosio. "This leadership award validates our market position of helping clients define and achieve their 'next' through cloud technology. We are no longer asking the question 'When will the cloud catch on?' Our clients are telling us 'It already has.'"
The selection is based on annual revenue generated by each reseller. A report that includes names of the organizations selected for this year's Top 100 list, ranked by revenue, is downloadable at http://www.erpglobalinsights.com.
About Bob Scott
Bob Scott has been informing and entertaining the mid-market financial software community via his email newsletters for 19 years. He has published this information via the Bob Scott's Insights newsletter—now known as ERP Global Insights—and website since 2009. He has covered this market for nearly 28 years through print and electronic publications.
About Velosio
Velosio is a leader in deploying business applications through the cloud and delivering unparalleled client experiences. One of the largest Microsoft partners in North America, Velosio supports the entire Microsoft Dynamics portfolio, Office 365 family and Azure services. The solutions portfolio includes ERP, CRM, Productivity, Business Intelligence and Power Platform, and extends to NetSuite and Sage. Velosio is the only Microsoft Cloud Distributor that specializes in Dynamics 365 and is a prominent Microsoft Master VAR. Headquartered in Columbus, Ohio, Velosio serves over 4,000 clients from more than 40 offices in the US and Canada.