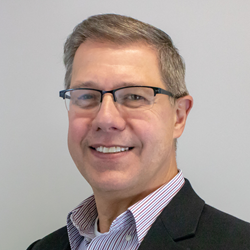 The clearing sector is ripe for innovation, and I'm thrilled to be joining an outstanding team that is at the forefront of this movement.
ANAHEIM, Calif. (PRWEB) February 18, 2020
Velox Clearing, LLC ("Velox"), a technology-forward clearing firm, today announced the appointment of brokerage industry veteran Michael Higgins as its Chief Executive Officer.
Mr. Higgins brings three decades of financial services leadership experience to Velox, most recently serving as Head of Operations at LPL Financial ("LPL"). In this position, he oversaw all areas of the firm's operations while mitigating risk, increasing efficiency, and working to continuously improve the client experience. At LPL, he was also Senior Vice President of Operational Risk Management, where he was responsible for the development and implementation of a risk culture and mitigation methodology throughout the firm's operational and service organizations. His career to date also encompasses senior-level positions at AXA Equitable, Bank of New York, Pershing, and Charles Schwab.
"The clearing sector is ripe for innovation, and I'm thrilled to be joining an outstanding team that is at the forefront of this movement," said Higgins. "My industry experience to date has instilled a deep understanding of the challenges and opportunities our clients face, and I look forward to helping Velox and its clients successfully navigate a rapidly evolving landscape to achieve growth."
In his new role, Mr. Higgins will leverage his broad expertise in brokerage operations, product development, sales, and risk mitigation to drive strategic direction and support Velox's business development initiatives.
Mr. Higgins earned his Bachelor of Science in Business Management from St. John's University; he also holds FINRA Series 4, 7, 8, 24, 53, 63 and 65 licenses.
David Herron, former CEO of the Chicago Stock Exchange, and a member of Velox's board of directors, added: "We are delighted to welcome an executive of Michael's caliber to the Velox team. Under his expert leadership, we are confident that Velox will continue to deliver exceptional value and differentiated service to clients."
Southern California-based Velox, which publicly launched operations in 2019, offers securities clearing, settlement, custody, margin lending, stock loan, and prime brokerage solutions to small- to mid-sized broker-dealers, registered investment advisers (RIAs), hedge funds, and automated (black box) traders. The firm introduces superior efficiency and speed to the back-office, supporting its customers' business operations by combining modern, responsive technology with high-touch service, competitive pricing, and rigorous risk management controls.
About Velox Clearing
Headquartered in Anaheim, CA, Velox Clearing LLC is a technology-forward correspondent clearing firm, prime broker, and RIA custodian. Combining deep expertise, exceptional client service, and cutting-edge technology, Velox empowers its clients to focus on controlling costs, acquiring new business, and leveraging their market presence.
Velox is registered with the SEC, is a member of FINRA and the NYSE, and is a member of DTCC/NSCC and SIPC. For more information, visit http://www.velox-global.com.