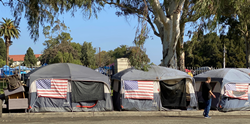 Veterans lived their lives in the service of others, and it is only just that we provide them with the most assistance possible.
HUNTINGTON BEACH, Calif. (PRWEB) March 10, 2021
In a rundown section of Westlake in Los Angeles sits a testament to waste that cost taxpayers $10 million dollars. The sad saga of the West Third Avenue Apartments project, which in 2018 promised to transform a shabby motel into an affordable housing development for aging veterans, became a $30 million California sinkhole. "This is one of those cases where a few rotten apples can ruin the entire barrel," said Nick Saifan, chairman of Vendaval Corp.
The case in Westlake involved an incredible cost overrun on the original property, a greatly overestimated appraisal on the site, and some curious, connections between an unreliable developer and groups tied to the $30 million project.
According to media investigations and public records, most of the $30 million pumped into renovating a 136-room motel went to its former owners, who were sued for illegally evicting tenants. While the Westlake project looked good to some, a review found that the developers planned to spend about $300,000 on each renovated unit. That figure was nearly twice the cost of similar projects in other California cities.
The mess that went down in Westlake is hardly uncommon. A government watchdog report in 2018 exposed the potential risks within an $8 billion taxpayer program designed to help the homeless. An analysis of data by National Public Radio found that between 1997 and 2014 the number of affordable housing units fell nationally by 16 percent, while the cost to taxpayers for those units ballooned by 66 percent.(1)
None of this is news to Saifan, who served in the U.S. military for 24 years and helps former warriors find dignity and community through affordable housing projects.
Demographics of Homeless Veterans(2)

11% of the homeless adult population are veterans
20% of the male homeless population are veterans
68% reside in principal cities
32% reside in suburban/rural areas
51% of individual homeless veterans have disabilities
Saifan won't point fingers. He knows government officials want to help the homeless, especially homeless veterans. But he also knows the world of affordable housing, nonprofits, and government funding can be a confusing journey for anyone not fully engaged in the complex process.
Saifan contends that builders and developers, not career bureaucrats, can guide these projects to fruition in time and within fair budgets. He said experienced developers, especially those with strong ties to veteran groups and nonprofits, can cut through much of the red tape associated with affordable housing developments.
Saifan's affordable housing project in Moreno Valley, CA, is a prime example of how seasoned builders, developers and veteran advocates can create magic and a sense of place for those who defended American freedom.
Vendaval plans to build a multi-use development in Moreno Valley. It will be a sanctuary for veterans in need of housing assistance. The development will help veterans and independent-living seniors find jobs, homes, facilities, training, mentoring and a sense of place all in one location. It will also be a huge job creator for the residents of Moreno Valley and Riverside County.
The Moreno Valley project will put many social programs under one roof, including:
Veteran Programs, including counseling and mentoring.
Job-Placement Assistance.
Transportation to Medical Appointments.
On the job training.
Saifan said citizens should step up and speak out on behalf of homeless veterans. He urged those who care about affordable housing and veterans to encourage government officials to do more for those in need.
"Veterans lived their lives in the service of others, and it is only just that we provide them with the most assistance possible," Saifan said. "We are here to make things possible for veterans and help them live a more fulfilling life."
About Vendaval Corporation
Nick Saifan served in the U.S. military for 24 years, including time stationed in Riverside County, CA. He experienced firsthand the difficulties of transitioning from military life to civilian life and, as a co-founder of a community-based nonprofit, he watched the difficulty in getting donations increasing year by year. Today, he's putting his business savvy where his heart is. He sees a community that, like many, has struggled to evolve with a changing employment picture in the region. Today Vendaval Corporation visualizes  a sustainable business structure creating the opportunity for helping those in need with successful community-based programs. The differentiator in the communities he visualizes is self-sufficient affordable housing in a mixed-use development that offers on-site programs for veterans, youth, education, childcare, on-the-job training, and job placement. These programs begin even before ground is broken. Rounding out the community are retail outlets such as bakeries/coffee shops, dry cleaning shops, a paid-membership fitness center, and financial institution. For more information visit http://www.vendavalcorp.com/
1. Schwartz, Emma. "Report warns of fraud risk in low income housing program. | 19 September 2018; PBS
pbs.org/wgbh/frontline/article/report-warns-of-fraud-risks-in-low-income-housing-program/
2. National Coalition for Homeless Veterans; nchv.org/index.php/news/media/background_and_statistics/#demo