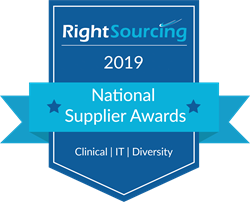 As solutions-oriented innovators working with large healthcare organizations across the nation, our supplier partnerships are crucial to our client's success.
IRVINE, Calif. (PRWEB) January 08, 2020
RightSourcing, the leading national provider of vendor-neutral contingent workforce management solutions for the healthcare industry, proudly announces the winners of the 2019 National Supplier Awards. Distributed annually at supplier forum events, RightSourcing recognizes suppliers for their collaboration in supporting strategic initiatives that deliver the highest standard of excellence in support of RightSourcing's healthcare customers.
Judged on a series of objective criteria, each supplier plays a critical role in helping RightSourcing deliver the best talent and workforce management solutions possible to enable healthcare clients to keep focus on providing the highest quality patient care. This year RightSourcing expanded the awards to highlight clinical and IT suppliers while also adding a new award for Diversity Partner of the Year.
"The National Supplier Awards allow us to recognize our top supplier partners for their responsiveness and service excellence," noted Maria Luoni, President of RightSourcing. "As solutions-oriented innovators working with large healthcare organizations across the nation, our supplier partnerships are crucial to our client's success."
Most Valuable Partner of the Year – Clinical
For the fifth consecutive year, FlexCare Medical Staffing is RightSourcing's Most Valuable Partner of the Year - Clinical. FlexCare is committed to supporting RightSourcing programs throughout the country with a delivery model that enables quick and efficient sourcing of high-quality nurses.
"We're grateful to be recognized by RightSourcing for our commitment to delivering top-tier professionals through an efficient process that provides real value," said Ryan White, VP of Client Relations. "At FlexCare, people are at the core of everything we do, and we work hard to maintain that focus. This honor validates that philosophy as we strive to continue building strong relationships with clinicians, hospitals and MSP partners."
Most Valuable Partner of the Year – IT
As a strategic partner working with some of RightSourcing's largest programs, CitiusTech is RightSourcing's Most Valuable Partner of the Year – IT. CitiusTech plays a deep and meaningful role in accelerating technology innovation and shaping the way healthcare is delivered to patients.
"As a specialist provider of healthcare technology services and solutions, CitiusTech works closely with large provider organizations," stated Abhay Singhal, Sr. VP of Provider and Healthcare Services. "Partnering with Rightsourcing has helped CitiusTech forge more effective partnerships with our healthcare clients."
Partner of the Year – Clinical
As an integral part of RightSourcing's supplier network for more than a decade Emerald Health Services is recognized as the Partner of the Year – Clinical.
"At Emerald Health Services, we pride ourselves in aligning our organization with the best strategic partners in the industry," stated Jake Dixon, President. "We look to the future with optimism and excitement, knowing we will do so with our friends and trusted business colleagues at RightSourcing."
Partner of the Year – IT
Supporting RightSourcing through numerous complex EHR implementations, as well as other technology projects with a robust network of consultants, BAHAMA Consulting is RightSourcing's Partner of the Year – IT.
"Being recognized as RightSourcing's IT Partner of the Year further reinforces our commitment to exceed clients' expectations and deliver through our strategic partnership," stated Alex Knutson, VP of Operations & Delivery. "We look forward to continued success and leaving a long-lasting impact in the fast-paced and everchanging technology and healthcare sectors."
Breakthrough Partner of the Year - Clinical
As a leading provider of contract professionals nationwide, Prime Time Healthcare specializes in the placement of RNs, LPNs, CNAs, Allied Health and Therapy professionals and is RightSourcing's Breakthrough Partner of the Year – Clinical.
"We are extremely honored to be named Breakthrough Partner of the Year," noted Logan Hendrickson, Co-Founder and Division Director. "Our partnership with RightSourcing has opened many new opportunities not only for our internal staff, but also travelers in the field. We look forward to creating positive customer experiences for our nurses and the facilities within this partner network."
Breakthrough Partner of the Year - IT
As the healthcare industry continues to evolve, Horizontal Talent showcases an ability to continually adapt and has been named RightSourcing's Breakthrough Partner of the Year – IT.
"We're thrilled to receive this tremendous honor from RightSourcing," said Jeremy Langevin, EVP. "This award is a testament to our team's excellence in IT talent delivery and proves our ability to gain the trust of leading-edge companies and help them execute their important business initiatives."
Diversity Partner of the Year
RightSourcing's commitment to enhanced supplier diversity is an unwavering tenet in our mission to positively impact patient care. RightSourcing recognized Atlas Medstaff with the inaugural Diversity Partner of the Year award. Atlas MedStaff ranks as the largest certified veteran-owned travel nurse staffing company in the country and supports dozens of RightSourcing programs nationwide.
"It became apparent to us early on that RightSourcing was vested in our success. In part because we hold up our end of the deal, but also because of their commitment to providing opportunities to companies like ours with diversity ownership," stated Steve Seitner, VP of Business Development and Client Relations. "We are pleased to have been working with RightSourcing now for almost four years, with several points of contact and consistently find them to be amongst the most responsive, helpful and available partners we work with."
Suppliers looking to join RightSourcing's prestigious Supplier Network are encouraged to fill out a Supplier Application. Healthcare systems looking to learn more about the benefits of a purely vendor-neutral managed service provider are encouraged to contact RightSourcing for a free Workforce Analysis.
Recipients are recognized for delivering excellence in contingent worker talent, compliance and candidate experience. RightSourcing measures and evaluates supplier engagement through proprietary Supplier Scorecards to determine the winners.
ABOUT RIGHTSOURCING
RightSourcing is the recognized authority in vendor-neutral workforce solutions for healthcare organizations, providing clinical and non-clinical solutions that positively impact patient care. Launched in 2001, we serve over 250 locations, managing over $2B in contract labor spend. As the industry's most-tenured managed service provider (MSP), we have proven success in reducing costs, mitigating risks and creating efficiencies across the entire spectrum of clinical and nonclinical workers. We offer a wide range of high-touch, comprehensive solutions to acute care and behavioral health organizations, including contingent labor procurement, statement-of-work service, worker on-boarding/off-boarding, compliance/credentialing verification, worker misclassification and co-employment risk avoidance, actionable business analytics and third-party payrolling.