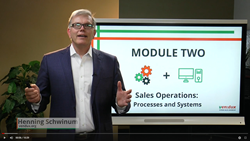 When it comes to sales leadership, mentorship is almost non-existent. We created this course at Vendux to train good CEOs and Founders how to scale and grow their business the right way; through leadership and clear expectation management.
KANSAS CITY, Mo. (PRWEB) March 03, 2020
Vendux Interim Sales is proud to announce the release of their "Beyond the Founder" educational series aimed at educating and preparing the founder to grow, lead, and develop a high-performing sales team. This three-module course is only available on Vendux.org and serves as the shortest path to internal sales leadership for scaling and medium-sized companies looking to grow.
According to the Gallup Poll in 2018 almost 57 million people consider themselves to be a part of the 'gig' or fractional workforce. Executives are no different and with that number set to grow, the need for capable, professional and highly-effective methods of finding and hiring the right fractional VP of Sales is higher than ever. Vendux serves to meet the needs of this dynamic and growing work-force.
About Vendux Interim Sales Leadership
Vendux Interim Sales Leadership fills the void for VC-backed, fundraising, or companies looking to scale when sales leadership is missing. We are the solution to lagging sales and misguided but well-intentioned sales teams who need direction and guidance.