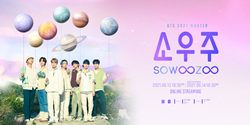 "ARMY continues to prove to be the most dedicated fanbase in music," said VenewLive CEO John Lee. "We're excited to virtually connect fans across the globe with their favorite group through our biggest interactive experience yet."
LOS ANGELES (PRWEB) June 08, 2021
Following the immense success of their record-breaking concerts and hit single "Butter," BTS and HYBE are once again joining forces with VenewLive to serenade virtual audiences with their highly anticipated two-day online concert, 'BTS 2021 MUSTER SOWOOZOO.' VenewLive is powered by Kiswe, the interactive video company.
This marks the latest collaborative effort between HYBE, BTS and VenewLive. Previous collaborations include BTS' 'BANG BANG CON The Live,' which set a new Guinness Book of World Record for most viewers for a music concert live stream, and 'MAP OF THE SOUL ON:E,' which amassed 993,000 viewers from 191 countries/regions.
Broadcast from Seoul using Kiswe's "multiview" live streaming technology, 'BTS 2021 MUSTER SOWOOZOO' will reach fans around the world on June 13 and 14. The 13th is a special date as it marks the 8th anniversary of BTS' debut.
Viewers will enjoy an interactive concert experience devised for audiences around the globe, leveraging visual features such as 4K resolution and Multiview, as well as fan engagement elements. Fans will be able to customize their own viewing experience, choosing which camera angle they want to see, and interact with each other by joining group chat rooms.
"ARMY continues to prove to be the most dedicated fanbase in music," said VenewLive CEO John Lee. "We're excited to virtually connect fans across the globe with their favorite group through our biggest interactive experience yet."
More information about the concert can be found at
https://www.venewlive.com/concerts/bts-sowoozoo
About HYBE
HYBE, formerly known as Big Hit Entertainment, is an entertainment lifestyle platform company that innovates the music industry under the mission "We believe in music." The company was listed on the KOSPI Market of Korea Exchange (KRX) in October 2020. HYBE has established its business ventures in entertainment lifestyle upon three pillars. The label division brings creatives centered around music and artists such as BTS, TOMORROW X TOGETHER, SEVENTEEN, ENHYPEN and ZICO. Solution operates specialized business units for video content, IP, learning and games. The platform division connects and expands all of HYBE's contents and services. Based on organic operations and synergies created in each field, HYBE aims to create top-notch content, expand fan experience, and make a difference for anyone who enjoys music-based entertainment lifestyle.
About VenewLive
VenewLive is a Digital Live Streaming Platform, powered by Kiswe, that delivers a unique, immersive experience to global music fans, expanding viewership beyond physical venues. Multiview technology enlivens the artists' performances, delivering on-stage magic and energy to fans virtually. Through digital interactive features, the fans will feel seen and valued by the artists and enjoy a collective viewing experience with other fans. Learn more at http://www.venewlive.com
About Kiswe
Kiswe is the interactive video company that creates real-time live streams to engage digital audiences and unique communities around the world. By partnering with sports rights holders, Kiswe Studio enables remote commentators to transform live games into multiple viewing experiences via personalized content and local languages. Kiswe's technology also unlocks ways for people to stay connected over live events through a content creation and mobile platform that bridges media companies with consumers. Kiswe is headquartered in New Jersey, USA and has offices in New York, Seoul, Hasselt and Singapore. Learn more at http://www.kiswe.com.