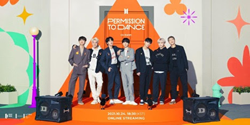 LOS ANGELES (PRWEB) November 29, 2021
VenewLive, the livestreaming platform powered by Kiswe, is partnering with HYBE to livestream 'BTS PERMISSION TO DANCE ON STAGE - LA', the band's first in-person concert since 2019. The 21st century pop icons will perform at SoFi Stadium in Inglewood, California on November 27-28 and December 1-2. Audiences all over the world will be able to tune into a livestream of the show on December 2 at 7:30pm PST. The offline concert follows the septet's livestream concert of the same name, which was held on October 24 on VenewLive.
This is the latest collaborative effort between HYBE, BTS, and VenewLive.
Broadcast from SoFi Stadium using Kiswe's "Multiview" live streaming technology, 'BTS PERMISSION TO DANCE ON STAGE - LA,' will be a groundbreaking experience, bringing BTS' unmatched energy to audiences in the stadium and around the world simultaneously.
Online audiences will be able to choose between various different camera angles to control and customize their views of the stage as well as use interactive features like Cheer, which allows fans to show their appreciation and excitement during the event by virtually cheering when they tap a button. These features allow remote viewers to collaborate with each other, as well as the crowd at the venue, enriching the overall experience for physical and virtual concert goers alike.
"This will be a special event for BTS and for the audiences in person and online. We are so excited to be able to bring it to the many viewers around the world who are unable to make it to SoFi," said Fred Sungwoo Kim, head of Korea and Operations at VenewLive. "We believe hybrid concerts are the future of live music and are here to stay."
More information about the concert can be found on the Weverse App, Weverse Shop, or VenewLive.
About BTS
BTS, an acronym of Bangtan Sonyeondan or "Beyond the Scene," is a GRAMMY-nominated South Korean group that has been capturing the hearts of millions of fans globally since its debut in June 2013. The members of BTS are RM, Jin, SUGA, j-hope, Jimin, V, and Jung Kook. Gaining recognition for their authentic and self-produced music, top-notch performances, and the way they interact with their fans, BTS has established themselves as 21st century pop icons breaking countless world records. While imparting a positive influence through activities such as the LOVE MYSELF campaign and the UN 'Speak Yourself' speech, the band has mobilized millions of fans across the world (named ARMY), collected six No.1 Billboard Hot 100 singles in less than a year, performed multiple sold-out stadium shows across the world. They were also named TIME's Entertainer of the Year 2020. BTS was nominated for Best Pop Duo/Group Performance at the 63rd GRAMMY Awards and has been recognized with numerous prestigious awards like the Billboard Music Awards, American Music Awards and MTV Video Music Awards.
About HYBE
HYBE, formerly known as Big Hit Entertainment, is an entertainment lifestyle platform company that innovates the music industry under the mission "We believe in music." The company was listed on the KOSPI Market of Korea Exchange (KRX) in October 2020. HYBE has established its business ventures in entertainment lifestyle upon three pillars. The label division brings creatives centered around music and artists such as BTS, TOMORROW X TOGETHER, SEVENTEEN, ENHYPEN and ZICO. Solution operates specialized business units for video content, IP, learning and games. The platform division connects and expands all of HYBE's contents and services. Based on organic operations and synergies created in each field, HYBE aims to create top-notch content, expand fan experience, and make a difference for anyone who enjoys music-based entertainment lifestyle.
About VenewLive
Backed by HYBE, YG Entertainment and Universal Music Group, VenewLive is the leading global live streaming platform that brings the world's largest virtual concerts to millions of viewers. Today's leading artists choose VenewLive for its proven ability to deliver innovative, interactive experiences to their fans at scale, exponentially expanding audiences and creating new revenue streams. Powered by Kiswe's patented technology including Multiview, fans can control and personalize their viewing experiences, and with Super Chat and Cheer Features, contribute to the concert as though they were there in person. Artists on VenewLive can tap into the world's most advanced digital interactive technology to make their fans feel seen and valued in a collaborative and immersive virtual or hybrid environment. Learn more at http://www.venewlive.com
About Kiswe
Kiswe is the interactive video company that links content owners directly with their global audiences. With its world-class Cloud Video Engine, Kiswe has delivered the world's largest digital pay-per-view events and serves the largest sports, media, and entertainment companies with its production, content distribution, and direct audience data solutions. Kiswe is leading the video 2.0 revolution with its interactive video technology, where audiences both consume and contribute to live digital content. Kiswe is headquartered in New Jersey, USA and has offices in New York, Seoul, Hasselt and Singapore. Learn more at http://www.kiswe.com.