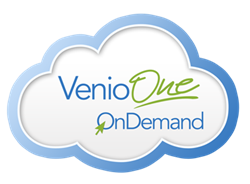 With numerous legal service providers adopting VenioOne OnDemand to provide a self-service model of eDiscovery to its customers, Venio Systems will be offering demonstrations in their booth during Legalweek to introduce this game-changer to legal service providers, law firms, and corporations.
WASHINGTON (PRWEB) January 24, 2020
Venio Systems, the fastest growing e-Discovery technology provider, will be celebrating the rapid adoption of the self-service eDiscovery model enabled by its VenioOne OnDemand platform during Legalweek 2020 in New York February 4-6. We are excited to share the difference this new self-service model is making for those leveraging it!
With more and more legal service providers adopting VenioOne OnDemand (VOD) to provide a self-service model of eDiscovery to its customers, Venio Systems will be offering demonstrations in their booth during Legalweek to introduce the self-service model to not only legal service providers, but also law firms, corporations, and government agencies.
What makes VenioOne OnDemand different?
The drag-and-drop upload capabilities enable quicker turnarounds for the creation of cases and processing of data. Templates and settings in the back-end VenioOne database enable this quick start, which empowers legal, investigative, and remote teams to get started immediately.
After ingestion, simple, but powerful, tools allow full-featured analysis and review of the data in customizable layouts. Another major differentiator are the collaboration features built into VOD. These are the tools that legal teams have wished for to improve traditional eDiscovery workflows. Internal or external parties can be invited to upload data or sent a subset of data via a secure, expiring link.
Finally, exports are simplified as well with options to export in numerous formats.
Self-Service eDiscovery Use Cases
There are numerous use cases for each type of entity to improve their traditional eDiscovery workflows. The following are just a few:

Small Datasets – Attorney, paralegal, or remote office needs quick access to a small amount of data they have received. No longer do they need to wait on mailing hardware or slow FTP uploads.
After Hours – Legal or investigative teams need data processed at a time when their practice support team or service provider may not be available to assist.
Internal Investigations – Without using practice support time, human resources or the general counsel can upload investigative data to review it. This allows them to gain insight on the data collected prior to moving forward or determining whether there is a case to pursue.
Collaboration – VOD makes it easy when a law firm needs to invite their client to upload data directly or share a subset of data with an expert or witness. No additional licenses needed.
Produced Data – Load produced data for quick turnaround and viewing. Not only will VOD process raw data, but it can also load common production formats.
See for Yourself
If you will be attending Legalweek, please request a personalized demo or join us in Booth 3011 in the Americas Hall II at your convenience.
About Venio Systems
Venio Systems is a team of innovators and developers with over 40 years of experience in providing eDiscovery solutions with unparalleled agility and ease-of-use while being scalable. Venio Systems was created to address the industry's lack of a complete eDiscovery solution that powers every phase of eDiscovery. VenioOne, a unified eDiscovery platform, is designed to provide law firms, corporations and government entities with the ability to manage all phases of discovery—processing, ECA, culling, document review, and production—from a single tool. Venio Systems remains at the forefront of innovation to provide solutions any litigator and eDiscovery professional can use. For more information and a demo, visit https://veniosystems.com/.