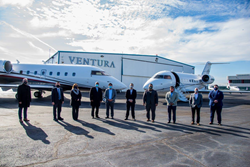 "Ventura's growth is reflective of the relative strength in the private aviation sector, coupled with our expansion goals."
FARMINGDALE, N.Y. (PRWEB) November 24, 2020
Responding to a growing demand for private chartered flights and a significant expansion of its business, Ventura Air Services recently took delivery of three aircraft, according to Nick Tarascio, CEO of the Farmingdale, NY-based aviation services company. With this investment in new aircraft, the company has significantly increased its fleet size in 2020 and plans to add more aircraft and staff in 2021. Tarascio notes that industry-wide, charter flights in the U.S. have rebounded, regaining a 90% booking capacity since June. Ventura has experienced increased demand for charters flights in recent months. This is due in part to the growing number of new charter travelers seeking safety, convenience, and air travel access. Ventura is also offering opportunities to make charter travel more cost-effective.
In response to the COVID-19 pandemic, the federal government implemented a temporary moratorium on its 7.5 percent excise tax for charter air travel paid for in 2020. To help new and existing customers benefit from this, Ventura is offering the opportunity to lock in tax-free flying in 2021 by prepaying for charter flights before the end of December. All prepaid customers will save 7.5% and can receive additional bonus credits for savings up to a total of 11%.
According to industry sources, commercial air travel is down 75% in November due to the ongoing COVID-19 pandemic. Private air charter companies report relatively robust growth among travelers seeking safer and more convenient travel methods. As an essential business, Ventura has continued to operate throughout the pandemic, including providing dozens of life-saving organ transplant flights each month. These flights are done in partnerships with several New York-area hospitals and are a significant part of the company's business.
"Ventura's growth is reflective of the relative strength in the private aviation sector, coupled with our expansion goals. With the investment in our fleet and infrastructure, we are positioning the company as a leading air services provider in the New York region and beyond," said Tarascio. "Commercial aviation is on life support, and it's harder to get flights. Many people are leveraging the benefits of charter flights because of health concerns, the overall convenience, and the exceptional experience we offer."
The newest additions to Ventura's fleet include two Bombardier Challenger 604 10-passenger, twin-engine jets with a maximum range of 3,756 miles and a top cruising speed of 528 miles-per-hour. The company is also adding a two Cessna Citation Excel 560 series two-engine jets that can accommodate eight passengers and have a maximum range of 1,657 miles, with a maximum cruising speed of 487 miles-per-hour. The company will have a charter fleet of 8 aircraft by the end of the year with aircraft which serve North, Central, South America, and the Caribbean.
LIA President & CEO Kevin Law: "This has been a challenging time for businesses in the state and throughout the country and thus we commend a successful local company like Ventura Air for its commitment to staying on Long Island, investing in our region and hiring additional employees."
Ventura presently employs 52 people and anticipates hiring an additional 25 over the next year. They plan to nearly double their size to accommodate the growth and hire pilots, flight logistics, and aircraft maintenance staff.
"Private aviation is an important sector on Long Island and a vital part of the regional economy," said Tarascio. "I am very optimistic about the industry's growth, as well as our vision for expansion and providing more options to our customers."
At the special announcement event at Ventura's Headquarters Nick Tarascio was joined by Joseph Vitulli, Board Member Long Island Business Aviation Association from Honeywell Aerospace, Richard Causin from the New York State Department of Transportation, Margaret Conklin from the New York State Department of Transportation, Babylon Town Councilmen DuWayne Gregory and Anthony Manetta, Joseph Garcia from the Farmingdale Chamber of Commerce, Imran Ansari from Discover Long Island, Dave Fattizzo from the Long Island Association and John Schneidawin from the Suffolk County Development of Economic Development.
To learn more about Ventura Air Services visit http://www.venturajet.com.
-END-
About Ventura Air Services
Ventura Air Services has been providing charter, sales and aircraft maintenance services for more than 60 years. In 2020 the company made a major investment in aircraft, doubling its fleet to 8. The company's fleet incudes Bombardier Challenger 604s, Learjet 55's, Learjet 35A's and Cessna Citation Excel 560's. Its Aircraft can accommodate between 7 and 11 passengers and are available for flights anywhere in the Western Hemisphere. A critical part of the company's operation is providing dozens of life-saving organ transplant flights for major New York area hospitals each month. For more information about Ventura Air Services visit: http://www.venturajet.com.
.