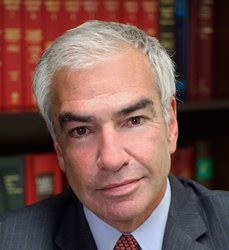 I admire the depth and breadth of Attorney Corsello's legal knowledge and his involvement and commitment to the greater Fairfield county communities
DANBURY, Conn. (PRWEB) September 19, 2019
Attorney Corsello has been practicing personal injury litigation and criminal law for over 35 years. He received his JD degree from Suffolk University Law School and his BA degree from the University of Connecticut. He was admitted to the Connecticut bar in 1982. In his 37 years of experience, he has represented thousands of clients in personal injury and criminal cases.
In 2011, Attorney Corsello was selected by the Chief Justice to serve on the Standing Committee to study the Jury system. Other notable accomplishments include being named one of the "Super Lawyers of Connecticut" every year for the past 9 years, as well one of the "Super Lawyers of New England". He is also a member of the Million Dollar Advocates Forum, for which membership requires handling cases with recoveries for clients of at least 1 million dollars. Attorney Corsello has lectured his colleagues on DUI cases ("Driving under the influence") and participated in National Symposiums including the National DWI college. He also authored "Inside the Mind Witness Preparation for DWI Proceedings", Copyright 2011, published by Aspatore Books a division of Thompson Reuters.
Attorney Corsello, who is also fluent in Spanish, joins Ventura Law as of-counsel to continue to serve the City of Norwalk and the surrounding Fairfield County communities from his office at 10 Byington Place in Norwalk, CT.
"I'm very pleased about my new affiliation with such a venerable and prominent law firm. Ventura Law has a presence throughout the entire state of Connecticut, and has the extensive resources, manpower, and expertise to enhance my ability to protect and assert the rights of my clients," said Attorney Corsello.
Attorney Corsello is extensively involved in his local community. He has served on the Board of Directors for various local non-profit organizations including Connecticut Counseling Centers and the Norwalk YMCA. In addition, he served on the Norwalk Fire Commission from 2001 through 2005 (Chairman from 2003 to 2005). From 1984 to 1986, he was a member of the Fair Rent Commission. In 1990, he served on the Charter Revision Commission and from 1995 to 1998, he was a member of the Oak Hills Park Commission and served as its chairman.
Attorney Augie Ribeiro, CEO of Ventura Law said, "I admire the depth and breadth of Attorney Corsello's legal knowledge and his involvement and commitment to the greater Fairfield county communities."
About Ventura Law - Ventura Law has provided its clients with compassionate legal service and a strong voice in the legal process since 1957, with four offices in Connecticut and one in New York City. We are a full-service practice, serving clients who have been injured in cases ranging from motor vehicle accidents, workplace accidents, premises liability, and pharmaceutical/medical device claims in state and federal courts. To learn more about Ventura Law, please visit us online at http://www.venturalaw.com.