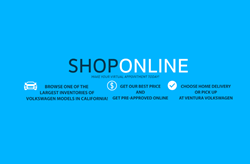 VENTURA, Calif. (PRWEB) April 24, 2020
Ventura Volkswagen has been helping drivers throughout the Tri-Cities area since 1965. This dealership offers a wide selection of Volkswagen vehicles along with used and Volkswagen Certified Pre-Owned models. Currently, Ventura Volkswagen is offering ways to purchase a vehicle without leaving the comfort of home.
Shoppers looking to purchase a new Volkswagen vehicle can now make virtual appointments with Ventura Volkswagen. Through the dealership website, customers may browse through the updated selections to find a vehicle that suits them. The dealership online inventory has a filter feature to find exactly what shoppers are looking for like color options or specific features.
Some of the Volkswagen vehicles at Ventura include the Volkswagen Atlas, the Volkswagen Golf, the Volkswagen Jetta and the Volkswagen Tiguan.
To start the online process, shoppers will need to fill out a pre-approval form from the dealership website. This way, the sales representatives can find the best price for shoppers. Once everything has been completed, shoppers may choose home delivery or pick up at Ventura Volkswagen.
For more information about purchasing Volkswagen vehicles online from Ventura Volkswagen, contact the dealership. It can be reached by phone at 805-642-6707 or by filling out an online form from the dealership website. Ventura Volkswagen is located at 3270 Perkin Avenue in Ventura, California. Sales hours are Monday through Friday from 10 a.m. until 4 p.m. and Saturday from 10 a.m. until 1 p.m.