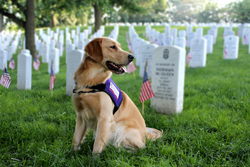 "I think the civilian population is obligated to support Veterans" ~ Jerry Schemmel, Play-by-play Announcer, Colorado Rockies
Denver, CO (PRWEB) August 24, 2017
22 Veterans take their lives every day. Paws for Purple Hearts is committed to lowering this horrifying statistic by providing Warrior Canine Therapy™, Facilities Dogs and Service Dogs at No Cost to wounded Veterans suffering from PTSD, TBI and mobility injuries.
Upon learning the vast amount of injured Veterans from all wars who are suffering so greatly, Jerry Schemmel, play-by-play announcer for the Colorado Rockies, is taking a Herculean challenge to help our suffering heroes by raising money for Paws for Purple Hearts in the Venture for Veterans™ Colorado Cycling Challenge.
On August 31, 2017 the Rockies' Jerry Schemmel will attempt to break the UltraMarathon Cycling Association record for non-stop solo cycle across the state of Colorado to raise funds for Paws for Purple Hearts and bring awareness to the number of Veterans in need of life-saving therapy and service dogs.
"I think the civilian population is obligated to support Veterans" ~ Jerry Schemmel, Play-by-Play Announcer, Colorado Rockies
The challenge will begin at dawn on August 31 at the Colorado/Utah border and conclude on Highway 50 at the Colorado/Kansas border. The challenge is 468 miles. The time to beat is 32 hours 9 minutes. Supporters of our Veterans are encouraged to donate by the mile or in a lump sum to Paws for Purple Hearts to assist the healing of more Veterans through Warrior Canine Therapy, Facilities Dogs and placement of Service Dogs. Paws for Purple Hearts provides canine services at no cost to wounded Veterans.
"Sometimes it takes a dog to find your humanity" ~ Greg Sipple, CEO, Paws for Purple Hearts
Challenge Cheer Zones will take place in 4 locations along the route with Veterans, Paws for Purple Hearts' service dogs, active military and community in attendance.
An award-winning documentary film crew will be following Schemmel throughout Venture for Veterans Colorado Cycling Challenge, chronicling the event and the Veterans Paws for Purple Hearts serves which will be made into a short form documentary.
An intimate reception and auction will follow the challenge on September 1, 2017 from 6pm-10pm at Coohills Restaurant in Denver. The reception is for invited special guests as well as the public, on a first come/first served basis for a donation of $40. Jerry Schemmel and some of Paws for Purple Hearts' service dogs with the Veterans they've been placed with will be in attendance.
About Paws for Purple Hearts:
Paws for Purple Hearts became an independent IRS 501(c)(3) non-profit in 2011. Paws for Purple Hearts is unique among Service Dog organizations because we bring the Veterans in to train the Service Dogs for their wounded comrades. Our Warrior Canine Therapy™ model allows us to assist approximately 50 Warriors with every service-dog-in-training before the dog moves on to a single Veteran for the remainder of its service life.
Paws for Purple Hearts has five facilities currently (Fairfax VA, San Antonio TX, San Diego CA, Menlo Park CA, and Fairbanks, AK) with plans to open more in the future. 95% of our donations come from individuals, corporations and foundations, and has never accepted U.S. government funding. All Paws for Purple Hearts services are Free to Veterans with PTSD, TBI or mobility injuries.
About Jerry Schemmel:
Major League Baseball fans know Jerry Schemmel as "the voice of the Rockies". Extreme cycling enthusiasts know Jerry Schemmel as a record-breaker and fierce competitor. The surviving passengers on United Flight 232 remember Jerry Schemmel as a "humble hero", as ESPN documented. His community knows Jerry as a devoted husband, father and a man of deep faith. And thousands have been inspired by Jerry Schemmel's motivational speeches.
Schemmel has been the play-by-play announcer for the Rockies since 2010. From 1992 – 2010, Schemmel was the play-by-play announcer for the NBA's Denver Nuggets. Prior to the Nuggets, Jerry was the play by play announcer for the Minnesota Timberwolves.