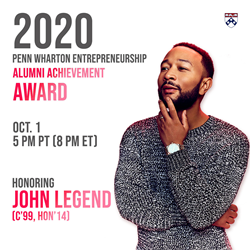 PHILADELPHIA (PRWEB) September 28, 2020
What: Venture Lab at the Wharton School of the University of Pennsylvania will honor artist, founder of FREEAMERICA and undergraduate alumnus John Legend, C'99, HON'14, with the Penn Wharton Entrepreneurship 2020 Alumni Achievement Award. During the virtual, live event, Wharton Dean Erika James will join Legend for a fireside chat discussing entrepreneurship as a platform for innovation and change. University of Pennsylvania President Amy Gutmann will deliver opening remarks and Wharton Vice Dean of Entrepreneurship and Innovation Karl Ulrich will share an update on Venture Lab. Venture Lab is an entrepreneurship and innovation resource for students at the University of Pennsylvania.
Who: Award-winning artist and activist John Legend. In 2014, Legend launched FREEAMERICA, a multi-year culture change campaign focused on ending mass incarceration. Legend graduated magna cum laude from the University of Pennsylvania's College of Arts and Sciences with a bachelor's degree in English, with an emphasis on African-American literature.
When: Thursday, October 1, 2020 from 5:00-6:00 p.m. PT / 8:00-9:00 p.m. ET
Where: This virtual event will stream live. Event link will be emailed to registered media attendees the day of the event.
RSVP: Media registration is required to attend, and space is limited. Journalists from verified media outlets should contact Wharton Media Relations at communications@wharton.upenn.edu to register for the event.
Registration for Penn alumni is available here: Penn Wharton Entrepreneurship 2020 Alumni Achievement Award Registration.
About the Wharton School
Founded in 1881 as the world's first collegiate business school, the Wharton School of the University of Pennsylvania is shaping the future of business by incubating ideas, driving insights, and creating leaders who change the world. With a faculty of more than 235 renowned professors, Wharton has 5,000 undergraduate, MBA, executive MBA, and doctoral students. Each year 13,000 professionals from around the world advance their careers through Wharton Executive Education's individual, company-customized, and online programs. More than 99,000 Wharton alumni form a powerful global network of leaders who transform business every day. For more information, visit http://www.wharton.upenn.edu.