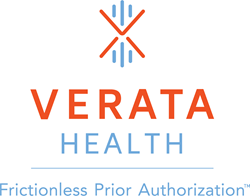 "This recognition from AHA is another step in our mission to improve patient care while saving time and money for health care providers." - Verata CEO Dr. Jeremy Friese
CHICAGO (PRWEB) December 03, 2019
Verata Health, the AI-powered platform developed to automate and streamline prior authorization for health care procedures, tests, and drugs, was selected by the American Hospital Association (AHA) as one of the most innovative artificial intelligence companies of 2019. Verata will be recognized for its innovation in health care AI at the AHA Executive Forum December 3rd in Chicago.
Errors in prior authorizations account for nearly a third of all provider write offs and contribute to surprise medical bills received by patients. Verata uses artificial intelligence to automate both simple and clinically complex prior authorizations—a process by insurance companies to screen and approve procedures, tests (including imaging), and drugs before they can be delivered to a patient. Verata automatically identifies when clinical criteria are met, reducing the burden to doctors and hospital staff, preventing errors that lead to expensive write-offs, and helping patients get faster care. 
"Verata's ultimate goal is removing obstacles patients face in order to get the care they need and deserve," said Verata CEO Dr. Jeremy Friese. "The financial benefit to providers is a bonus. It's a win-win."
The AHA is a national organization that represents and advocates for hospitals and health systems, their surrounding communities and the patients they serve. This year's executive forum, "Medicine + Machines," will focus on how AI is driving positive patient experiences and outcomes and transforming current processes within health care organizations. 
The event on December 3rd will kick off with a breakfast presentation, featuring Dr. Friese and Verata's Chief Medical Officer, Dr. YiDing Yu. Panelists will discuss how AI and automation are being used in hospital systems across the country, including for prior authorizations, to improve patient care.
"I'm pleased Verata is proving to make a difference in patients' lives, and excited to continue spreading awareness of our platform," said Friese. "This recognition from AHA is another step in our mission to improve patient care while saving time and money for health care providers."
About Verata Health
Verata Health is a Minnesota-based, physician-led company changing the way medical practices, hospitals, and payers tackle the challenges of prior authorization. By leveraging powerful artificial intelligence, Verata Health automates both simple and complex prior authorizations, delivering immediate financial value and helping patients get the care they deserve. For more information please visit http://www.veratahealth.com.