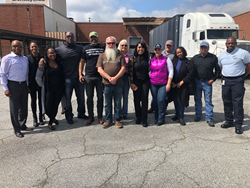 Plant Life bubbled up as a natural fit into Verde Leaf's formula for success
DELRAY BEACH, Fla. (PRWEB) May 13, 2020
Plant Life Company announced that it has entered into a collaborative relationship with Verde Leaf™ becoming a Preferred Distribution Partner for the company's line of crop specific nutrients. Verde Leaf™ will recommend Plant Life's superior line of nutrient rich, and unique hemp formulations to its network of over 40 hemp farms across the Southeast.
Verde Leaf™, through its tireless, passionate effort, addresses the challenges farmers face in the hemp arena, including, but not limited to, license acquisition, cultivation, processing, and a deep breadth of industry knowledge and know-how. The Verde Leaf™ advantage, having assembled a team of virtual Rock Stars, provides them an innate ability to cover the complete spectrum from genetics through end-user sales distribution. There is no more complete service and product offering on the market today than Team Verde Leaf's. Moreover, Verde Leaf™ assists in ensuring that the crop is sold above fair market value. Verde Leaf's integration with The Farming Network™ offers free access to an invaluable network of seasoned hemp farmers and specialists across the Southeast that provide solutions, resources, and in-demand insider experience. Learn more about Verde Leaf™ at http://www.verdeleafgroup.com.
"After vetting a number of nutrient product lines for our experienced professional hemp farmers, Plant Life bubbled up as a natural fit into the Verde Leaf's formula for success. Not only do their products perform as promoted, but David and team work almost as tirelessly and passionately as we do…almost," said Dr. Jackson Garth, President and CEO, Verde Leaf™.
Furthermore, Robin Davis, Chief Genetics Officer, Verde Leaf™ mentioned, "Plant Life Company's products and their ability to meet our stringent hemp protocol nutrient needs on all fronts including organic, inorganic and willingness to custom formulate, made them the most suitable choice."
"We are thrilled to partner with Verde Leaf™. We share a like-minded drive to provide real value and unmatched results to Verde Leaf's extensive network of hemp farmers," commented David Ellerstein, Co-Founder and Managing Partner, Plant Life Company. "We are excited to engage in concert with Verde Leaf™ in collaborating with their network so that Plant Life can continue to innovate and evolve its hemp formula in this 'once again' nascent industry." Ellerstein though added, "I will not try to keep up with Jackson's frenetic pace of walking farms every waking hour."
About Verde Leaf™
Verde Leaf™ is one of the hemp industry's first vertically integrated hemp companies, that created solutions for the farmer, business owners, and consumers. We solve some of the key challenges in the emerging hemp industry by assisting farmers with license acquisition, hemp cultivation and processing, and filling the knowledge gap with our network of seasoned hemp farmers and specialists across the Southeast. Moreover, by securing exclusive contracts with farmers, Verde Leaf™ ensures that hemp product sold to consumers have unprecedented clarity, consistency, and data available for products they are purchasing. By controlling our supply chain seed-to-sell, Verde Leaf™ gives customers assurance and confidence in the superior quality of our consumable and non-consumable product lines. Please follow us on both YouTube and LinkedIn to learn more about this amazing industry and plant. https://www.youtube.com/channel/UC9Wcp5R8cbWY1OEqbOOMbJg https://www.linkedin.com/company/verde-leaf/
About Plant Life Company
With over 160 years of combined experience in the fertilizer industry, Plant Life Company offers the professional grower an unparalleled level of nutrient expertise. The Doggett family name (Scott Doggett, Partner and Founding Member of Plant Life) has been synonymous as the leader in fertilizers since the 1920's. The collaborative resources and breadth of practical knowledge has allowed Plant Life Company to develop an unparalleled line of nutrients targeted to the burgeoning greenhouse market and other B2B enterprises. Plant Life Company is undeniably creating a new benchmark for which all to be measured. Learn more at http://www.plantlifehemp.com