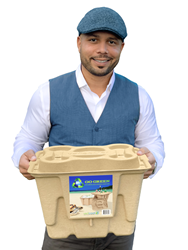 "We are excited to announce that the Vericooler is available coast-to-coast for the first time. Now, consumers across the country can buy the Original eco-friendly cooler," said Mr. Jobe, CEO of Vericool. "Plus, we are working to expand distribution across all of North America, making Vericoolers av
LIVERMORE, Calif. (PRWEB) June 30, 2020
Vericool, Inc. (http://vericoolpackaging.com/), a leading innovator and manufacturer of environmentally friendly packaging solutions, announced its Vericooler is now available in over 2,000 retail stores coast-to-coast, including 7-11, Whole Foods, Save Mart Stores, Lucky Stores and BevMo!. Invented by founder Darrell Jobe in 2017, the Vericooler is the original 100 percent recyclable and biodegradable cooler, replacing coolers made with environmentally unfriendly Styrofoam.
The Vericooler was created by Mr. Jobe while on vacation in Hawaii when he could not find an alternative to Styrofoam coolers for his family. Unveiled at the 2018 Pack Expo, it was designed to match the performance characteristics of Styrofoam, using sustainable, eco-friendly, plant-based/used recycled box materials that are curbside recyclable. The Vericooler sells for less than $10 at retail and holds up to 20 12-ounce cans. It is reusable, water resistant and holds ice for up to 18 hours.
"We are excited to announce that the Vericooler is available coast-to-coast for the first time. Now, consumers across the country can buy the Original eco-friendly cooler," said Mr. Jobe, CEO of Vericool. "Plus, we are working to expand distribution across all of North America, making Vericoolers available to more and more consumers."
Vericool's mission is to replace traditional packaging materials that pollute the environment, such as polystyrene (Styrofoam). Polystyrene, used for its low-cost insulation qualities, is rarely recycled. Some experts say it can take 500 years to break down in landfills. As polystyrene foam manufacturers attempt to maintain sales, they continue to greenwash the public. Recently, a polystyrene foam cooler was introduced to retailers with the claim of being environmentally friendly. But this requires a bioreactor landfill for it to decompose in four years. Unfortunately, less than a dozen of these landfills exist in the U.S., ensuring continued pollution littering our beaches and roadways and being fatally ingested by wildlife.
About Darrell Jobe
Darrell Jobe grew up in Richmond, Calif. He dropped out of school in the 8th grade, joined a gang in his teens, was homeless, and in and out of trouble. In his early 20s, he decided to change his life. Finding a job was difficult, but he eventually landed a sales position with a packaging products distributor. Having dropped out of school, he taught himself sales and engineering skills. After a highly successful sales career, he founded Vericool, Inc. in 2015 after noticing the absence of environmentally friendly packaging products.
About Vericool, Inc.
Vericool, Inc. was founded in 2015 with the goal to protect people and the planet by reducing the use of unsustainable packaging materials (starting with, but not limited to, expanded polystyrene foam). The company created the world's first eco-friendly cooler, the Original, in 2017 and is a leader in proprietary, patented, plant-based sustainable packaging solutions that are customizable and high-performing. Vericool is committed to a diverse workforce and to employing convicted felons, supporting those in need of a second chance in an effort to reduce prison recidivism. The company is headquartered in Livermore, Calif.
To learn more about Vericool, visit http://vericoolpackaging.com/ or follow the company on Twitter, Facebook and LinkedIn.
Media Contact
Martin Stein
Martin.Stein@OrcaPR.com
702-285-2873
Orca Public Relations Unlimited